Ukraine's parliament, the Verkhovna Rada, voted to sack the government earlier on 10 January, accusing it of creating a "threat to national security" by striking a deal recently on Russian gas supplies to Ukraine in 2006.
Supreme Court To Weigh In
Yushchenko, who is currently on an official visit to Kazakhstan, was later asked by reporters whether he could oust the legislature. "I do not rule out such a possibility," said Yushchenko. He added that he will ask Ukraine's Supreme Court to assess the rapid developments.
But analysts suggest Yushchenko would face an uphill climb if he sought to dissolve the parliament, as it is unclear whether Ukrainian legislation currently grants the president such powers. There are also doubts over whether a hobbled Supreme Court could respond authoritatively to the situation.

Yushchenko had previously said that the no-confidence vote by Ukraine's parliament, the Verkhovna Rada, was "not constitutional."
For now, lawmakers have asked the government to continue work until a new cabinet is formed.
Yekhanurov was appointed in late September and his cabinet was first convened on 1 October.
A Strategic Pre-Election Blow
The sacking of Yekhanurov's cabinet also presents Ukraine's political establishment with a serious legal puzzle: what to do now?
According to a constitutional reform that took effect on 1 January, it is the parliament that now has the critical say in forming a governing coalition and appointing a new cabinet.
But the reformed text stipulates that those new powers belong only to the legislature that is to be elected in March -- not to the sitting parliament.
The no-confidence motion appears aimed at dealing a blow to President Yushchenko and his allies ahead of the country's parliamentary elections in March.
The motion was supported by a number of opposition lawmakers, including members of the Regions of Ukraine led by former Prime Minister Viktor Yanukovych, who lost a presidential runoff to Yushchenko in December 2004 after public protests led to the nullification of fraudulent balloting, and the bloc of former Prime Minister Yuliya Tymoshenko.
Two hundred and fifty deputies in the 450-seat parliament supported the no-confidence measure, well above the 226 needed for passage.
Spinning The Gazprom Deal
Ukrainian Fuel and Energy Minister Ivan Plachkov shunned the parliamentary debate on the day of the vote. Foreign Minister Boris Tarasyuk and Oleksiy Ivchenko, the head of the state-run Naftohaz Ukrayiny gas concern, were also absent.
The sacking of the cabinet took place after Yekhanurov attempted to convince lawmakers the terms of the deal were advantageous to Ukraine, and that the price Kyiv will pay for its gas supplies was reasonable. Yekhanurov also intimated that rival political groups had attempted to use the issue for political gain.
"The importance of the gas issue captivated our society so much that it was commented on even by people who due to their [lack of] professional qualities could not grasp the complexity and the scale of the problem of energy supplies to our country, and through some of these comments, certain Ukrainian figures harmed the country's interests, politically and economically," Yekhanurov told the Verkhovna Rada.
Critics Not Convinced
Yekhanurov might be forgiven for expecting that his cabinet would be praised, rather than scolded, for the gas deal.
Under the 4 January accord -- between Ukraine's oil and gas company Naftohaz Ukrayiny, Russia's gas monopoly Gazprom, and a Swiss-based intermediary -- Ukraine is to obtain 34 billion cubic meters of gas in 2006 from Russia for $95 per 1,000 cubic meters.
Gazprom initially demanded a price of $230 per 1,000 cubic meters in 2006.
The deal also provided for a rise in the tariff Russia paid to Ukraine to transport its gas by pipeline to markets in Western Europe.
But critics of the gas deal -- including the very vocal Yuliya Tymoshenko, a former Yushchenko ally who was ousted as prime minister in September 2005 on charges of abuse of office -- said the deal is valid for only the first six months of the year and will be revised upward after that.
They also slammed the government for making RosUkrEnergo -- an obscure Swiss-based intermediary created by Gazprom -- the monopolist responsible for gas supplies to Ukraine.
According to Ukrainian critics of the gas deal, Kyiv should not have reneged on an existing contract with Gazprom of 2002. That deal fixed both the transit tariff and the gas price at rates beneficial for Ukraine.
Instead of signing a new accord, they argued, Kyiv should have defended the old one before an international arbitration panel.
EU Urges Stability
The European Commission responded by saying it hoped the sacking of the Ukrainian government and the ensuing political crisis would not threaten stability in the country.
Commission spokeswoman Emma Udwin told RFE/RL late on 10 January that the European Union wants ongoing political and economic reforms to continue uninterrupted.
"We're of course following developments in Ukraine very closely," Udwin said. "We understand that the government can continue in a caretaker role. If it chooses to do that, then we hope that it will do everything in its power to maintain stability. It's important that it is possible to continue the political and economic reforms that Ukraine has embarked on, notably with the support of the EU and the EU-Ukraine action plan."
Gas Deal Threatened
RFE/RL regional analyst Roman Kupchinsky said the 10 January move could have an impact on the 4 January gas deal, which has been finalized on the company level but has yet to be sealed with an intergovernmental agreement between Kyiv and Moscow.
"The major impact this is going to have will be on the agreements on gas sales between Russia and Ukraine," Kupchinsky said. "You have to remember that the gas sale is always agreed upon in two steps. One is an agreement between companies -- in this case, Gazprom and Naftohaz Ukraine -- and the second part is an intergovernment agreement between Ukraine and Russia on the same matter, on gas sales. Yekhanurov's government prepared a draft proposal, which has not been submitted yet to [Russian Prime Minister Mikhail] Fradkov's government, to the Russian government. The new government that comes in might be under tremendous pressure to reject the Russian, the Gazprom-type agreement and look for different solutions to gas problems."
Kupchinsky said the heated rivalry of politicians like Tymoshenko, combined with political loopholes, create uncertainties about what will happen next.
"[Tymoshenko] was fired by the president," Kupchinsky said. "Here the parliament is taking advantage of the situation of the political reform that changed the political balance of forces in the country in 1 January. So now, parliament has the power to remove the government. They said that they will keep Yekhanurov in as acting prime minister, but we'll see what that means, what the implications will be in terms of the other ministries, of course."
It is difficult to say for the time being whether a new cabinet will be formed before the parliamentary vote on 26 March or whether Yekhanurov will remain as a caretaker until the elections.
(with additional wire reporting)
Spotlight On Yuliya Tymoshenko
Spotlight On Yuliya Tymoshenko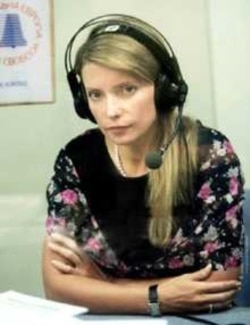 READ
Former Prime Minister
YULIYA TYMOSHENKO
has long been a controversial figure in Ukrainian politics. A former economist and head of Unified Energy Systems (EES) of Ukraine from Dnipropetrovsk in eastern Ukraine, Tymoshenko served as deputy prime minister for energy in the cabinet of Viktor Yushchenko, when he was prime minister under former President Leonid Kuchma. She has faced legal troubles linked to corruption allegations both in Ukraine and in Russia, although all cases against her have now been dropped. Tymoshenko was a firebrand of the opposition movement during the 2004 Orange Revolution, leading demonstrators to surround the presidential administration and issuing ultimatums to the Kuchma government.
In March 2005, President Viktor Yushchenko named her prime minister, a post that she held until September of that year. In August, on the occasion of the six-month anniversary of her appointment, Tymoshenko spoke with RFE/RL at length, discussing, among other things, the then-looming gas conflict with Russia and the likelihood of a "difficult and dirty" battle in the upcoming parliamentary elections
....(more)
See also:
Interview -- Yuliya Tymoshenko Marks First 100 Days As PM
Former Prime Minister Offers President Olive Branch
Former Prime Minister Tymoshenko To Go It Alone

ARCHIVE: An archive of RFE/RL's reporting and analysis on Ukraine's Orange Revolution.
LISTEN
Listen to an audio portrait of the Orange Revolution from RFE/RL's archives. Click
here
for Real Audio and
here
for Windows Media.