Nagorno-Karabakh High On Agenda For OSCE's New President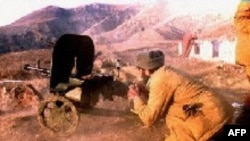 Scene from the war for Nagorno-Karabakh (file photo) (AFP) 11 January 2006 -- Belgian Foreign Minister Karel De Gucht said on 11 January that resolving the deadlocked conflicts would be a priority for his country's presidency of the Organization for Security and Cooperation in Europe (OSCE).
De Gucht said he would travel to Azerbaijan and Armenia on 24 January in an effort to get both sides to agree to new top-level talks for 9 February aimed at resolving the conflict over Nagorno-Karabakh.
Predominantly ethnic Armenian Nagorno-Karabakh forcibly seceded from Soviet Azerbaijan in 1988, triggering a war that claimed some 30,000 lives and drove more than 800,000 people from their homes.
Armenia and Azerbaijan signed a truce in 1994, but remain formally at war.
De Gucht said he hoped to get the two sides to reach an agreement this year, which could lead to an OSCE observer mission being sent to the area.
Belgium took over the yearlong presidency of Europe's top security organization on 1 January from Slovenia.
(AP)