Kazakh Bank To Develop Adjaria's Black Sea Coast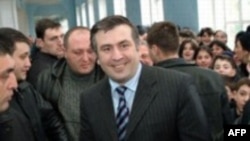 Saakashvili wants Kazakhstan, not Russia, to be Georgia's leading investor (file photo) (AFP) 11 January 2006 -- Georgian President Mikheil Saakashvili today said he had signed an agreement with representatives of a Kazakh bank to develop the hotel infrastructures of the Black Sea autonomous republic of Adjaria.
Saakashvili, who is on a visit to Astana, said Kazakhstan's Bank TuranAlem would build several hotel facilities on Adjaria's seashore.
The Georgian president said he hoped the region would become a fashionable resort area by 2008.
Bank TuranAlem, which opened offices in Georgia in August, is already funding the reconstruction of the Iveria hotel in the center of the Georgian capital, Tbilisi. The building has been serving as a shelter for ethnic Georgians displaced by the 1992-1993 war with Abkhazia.
Yesterday, Saakashvili said he wanted Kazakhstan to replace Russia as Georgia's leading foreign investor.
(Civil Georgia/Kavkas-Press)
RFE/RL Central Asia Report

SUBSCRIBE For regular news and analysis on all five Central Asian countries by e-mail,
subscribe to "RFE/RL Central Asia Report."