Pope's Would-Be Assassin Released From Turkish Jail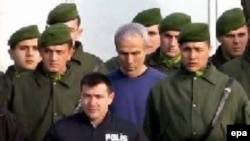 Mehmet Ali Agca (center) emerges from jail, 11 January (epa) 12 January 2006 -- The Turkish gunman who tried to kill Pope John Paul II nearly 25 years ago has been released from a high-security jail in Turkey.
Mehmet Ali Agca served 19 years in jail in Italy after shooting the pope in Rome in 1981, but was pardoned in 2000 by the Italian authorities.
He was then extradited to Turkey, where he was jailed for crimes not connected to the failed assassination attempt on the pontiff.
Pope John Paul II later publicly forgave him. To this day, the motive for the attack remains a mystery. Among the most widely posited theories is that he was acting on the orders of secret services in the Soviet bloc.
Justice Minister Cemil Cicek said the Turkish government will appeal Agca's early release.
(AFP, Reuters, AP)