EU Envoy In Montenegro To Discuss Referendum Plans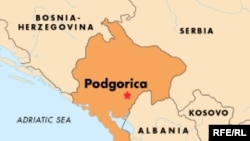 (RFE/RL) Podgorica, 12 January 2006 (RFE/RL) -- A European Union envoy is currently meeting with Montenegrin officials and opposition leaders to mediate in a dispute over plans to hold a referendum on whether Montenegro should become a sovereign state.
The envoy, Miroslav Lajcak, has already met with opposition leaders who want the union between Serbia and Montenegro to survive, RFE/RL's South Slavic Service reports.
He also plans to meet with Prime Minister Milo Djukanovic and other pro-independence officials who intend to hold a referendum by the end of April.
Under discussion are the conditions under which a vote might be held and regulations governing campaigning, media coverage. and security measures.
The European Union brokered a deal in 2003 that formed the loose union, but relations between Serbia and Montenegro remain strained.


SUBSCRIBE
For a regular review of politics, media, and RFE/RL broadcasts in the western Balkans,
subscribe to "RFE/RL Balkan Report."