Spain Arrests Suspected Chief Of Al-Qaeda-Linked Cells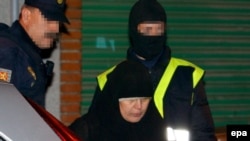 Police escort a veiled woman from the scene of a 10 January operation aimed at breaking up alleged terrorist cells based in Spain. (epa) 12 January 2006 -- Spanish authorities have arrested the alleged leader of two Al-Qaeda-linked cells suspected of recruiting Muslims to fight in Iraq.
The Spanish Interior Ministry named the man as Omar Nakhcha, a Moroccan citizen.
Ministry officials said he headed two cells dismantled by police this week in raids that led to the arrest of 20 people.
(Reuters)