Belarus Prevents Opposition Leader From Leaving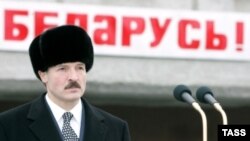 President Lukashenka has been criticized recently by the UN for creating a totalitarian state (ITAR-TASS) 12 January 2006 (RFE/RL) -- Belarusian opposition leader Anatol Lyabedzka today claimed that authorities have barred him from leaving the country, RFE/RL's Belarus Service reported.
Lyabedzka told RFE/RL that migration officers had refused to stamp his new passport, thus effectively preventing him from leaving Belarus.
He said authorities gave no reason to explain their decision.
Soviet-era exit visas remain mandatory under Belarusian laws. Although Belarus' Constitutional Court has declared them illegal, their abolition has been put on hold at the request of the Interior Ministry.
(with material from AFP)
Video Roundtable On Belarus/Ukraine


On December 8, 2005, RFE/RL and the Policy Association for an Open Society (PASOS) jointly conducted a roundtable discussion on issues relating to Belarus's post-Soviet transition. To view video of the roundtable, click here.
See also:
Belarus: Authorities 'Cleanse' Media Ahead Of 2006 Vote
Can Belarus's Opposition Unite To Challenge Lukashenka?