Foreign Minister Manuchehr Mottaki said today that Iran would end unannounced UN checks of its atomic facilities and resume uranium enrichment if its case were sent to the council.
Officials from the United States and the European Union's three biggest powers said yesterday that talks with Iran to curb its nuclear activities were at an impasse. They suggested Tehran's case could end up with before the Security Council.
Iran says it seeks to develop only a civilian nuclear-power program in accordance with international law. Some governments in the West suspect Iran wants to develop an atomic bomb.
The UN's nuclear watchdog, the International Atomic Energy Agency (IAEA), has decried Iran's lack of disclosure of nuclear-related activities, accusing it of failing to meet obligations under the Nuclear Non-Proliferation Treaty (NPT).
UN Secretary-General Kofi Annan said yesterday after a telephone conversation with Iran's top nuclear negotiator, Ali Larijani, that
he is "extremely concerned"
about tensions over Iran's nuclear program and offered to help mediate the crisis.
(Reuters, AFP)
U.S. IAEA Governor Gregory Schulte
U.S. IAEA Governor Gregory Schulte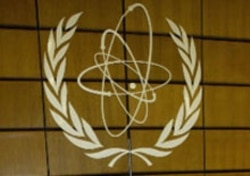 THE INTERNATIONAL COMMUNITY SPEAKS: Listen to excerpts from a November 22 Radio Farda interview with Gregory Schulte, the U.S. representative on the Board of Governors of the International Atomic Energy Agency (IAEA).


LISTEN
Listen to the complete interview:
Real Audio
Windows Media
THE COMPLETE STORY:
For RFE/RL's complete coverage of controversy surrounding Iran's nuclear program,
click here.
CHRONOLOGY: An annotated timeline of Iran's nuclear program.