Gazprom Assures Germany Of Safe Gas Supplies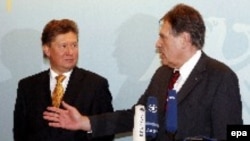 Gazprom's Aleksei Miller (left) with German Economy Minister Michael Glos today (epa) 13 January 2006 -- The chief executive of Russia's Gazprom state-controlled natural gas company has pledged that gas supplies to Germany and the EU will remain steady and reliable.
Aleksei Miller met today in Berlin with German Economy Minister Michael Glos.
Several European countries reported a temporary drop in supplies after Russia earlier this year cut off deliveries to Ukraine over a gas price dispute. German politicians voiced concerns that the country might be too dependent on Russian gas.
Miller also said that work on a pipeline linking Russia and Germany through the Baltic Sea remains on track and that deliveries to Germany will start as planned in 2010.
He said "new initiatives" on energy are to be discussed during German Chancellor Angela Merkel's visit to Moscow on 16 January.
(AP, Reuters)