Putin's Position On Iran 'Very Close' To Europe, U.S.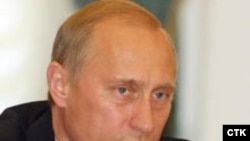 Russian President Putin (file photo) (CTK) 16 January 2006 -- Russian President Vladimir Putin says Moscow's position on the Iranian nuclear issue is "very close" to that of European countries and the United States.
Putin made the comment in Moscow ahead of a 16 January meeting in London of representatives of the five permanent veto-holding members of the Security Council, plus Germany, on how to handle Iran's controversial nuclear program.
Also on 16 January, U.S. Secretary of State Condoleezza Rice said that Washington wants the UN's nuclear watchdog, the International Atomic Energy Agency (IAEA), to hold an emergency meeting as soon as possible to decide whether to refer Iran to the Security Council for possible sanctions.
She added that Washington fears that if IAEA members waited until a scheduled meeting in March Iran would be able to further "obfuscate" over its nuclear weapons plans.
Britain and France back the U.S. position.
The fifth permanent Security Council member, China, has not made a public statement.
Iran claims the right to pursue its civilian nuclear program and denies it is developing nuclear weapons
(Reuters, AFP)

THE COMPLETE PICTURE: RFE/RL's complete coverage of controversy surrounding Iran's nuclear program.
CHRONOLOGY
An
annotated timeline
of Iran's nuclear program.