Iran Denies Seizing Iraqi Coast Guards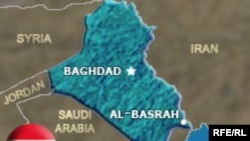 (RFE/RL) 17 January 2006 -- Iraq today accused Iran of "kidnapping" a coast-guard patrol on their tidal border and demanded their release, but Tehran's envoy in Baghdad denies the incident ever happened.
Iraq says the nine coast-guard members were captured during a skirmish near the southern city of Al-Basrah on 14 January. One coast-guard member was reportedly killed in the clash.
The governor of Al-Basrah, Muhammad al-Waili, said the clash happened after an Iraqi navy patrol spotted a suspicious vessel flying an Iraqi flag. He said the vessel apparently radioed Iranian forces for help and an Iranian navy ship attacked the Iraqi patrol.
It was not immediately clear on which side of the Shatt Al-Arab waterway, or Arvand River, the incident reportedly took place.
(Reuters)