Iran: Group Releases Turks, Still Holding Soldiers Hostage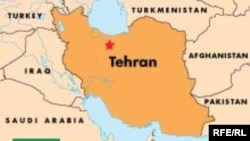 (RFE/RL) The families of the Iranian soldiers who were kidnapped recently near the Iran-Pakistan border gathered today in front of Iran's presidential building in Tehran. They called for swift government action to release the hostages. The semi-official Fars news agency reported today that the protesters say the hostage takers have threatened to kill the kidnapped soldiers within three days unless Tehran frees four of the group's members and pays a ransom. The hostage takers made the same threat to RFE/RL's Radio Farda last week. They claim they are members of a Sunni militant group but Iranian officials say they are drug smugglers with ties to terrorist organizations.
Prague, 17 January 2006 (RFE/RL) -- The nine Iranian soldiers were kidnapped in late December from their post in the region of Saravan, close to Iran's border with Pakistan.
Three Turkish citizens reported to also have been kidnapped by the same group in late December were released today.
Turkish Foreign Minister Abdullah Gul did not say when the three Turks were freed but he thanked the Iranian government for helping secure their release.
Shortly after Tehran first confirmed the soldiers' abductions, a group calling itself Jundollah (Soldiers of God) claimed responsibility for the action.
The group released a video, aired by Al-Arabiyah television on 4 January, that showed the kidnapped soldiers. The video was reportedly muted. But the newscaster quoted a spokesman for the group as saying the soldiers would be killed unless Iran released several of their members from prison.
"The person [who contacted Radio Farda and claimed he is the leader of Jundollah] says they are under a lot of pressure by the Iranian government because they are a minority and they are Sunnis and they say that's the reason why they have turned to armed militancy. " -- Radio Farda's Borna
Al-Arabiyah also reported that the soldiers identified themselves and called on their country's government to comply with the demands of their captors.
On 9 January, a man claiming to be the leader of the group contacted Radio Farda and made similar demands.
Radio Farda correspondent Niusha Borna has spoken several times with the man, who says his name is Abdolmalek Rigi. "They are demanding the release of four of their members who have been jailed by the Islamic Republic," Borna said. "In addition, they told us that they want 200 million tumans [some $230,000], two house deeds, and eight cars, which they say were taken away from them by the Islamic Republic government and they want them to be returned."
The families of the hostages who gathered today in front of the Iranian president's office also told Fars that Rigi has contacted them. They said he told them that if Tehran does not comply with his group's demands, the soldiers will be beheaded one by one after a three-day deadline expires.
Rigi has said that he freed one of the soldiers, who according to him was sick. But the claim cannot be verified. Rigi also claimed during his phone conversation with Radio Farda broadcaster that his group is facing discrimination and pressure.
"They are Baluchis, they belong to Iran's Sunni minority," Borna noted. "The person [who contacted Radio Farda and claimed he is the leader of Jundollah] says they are under a lot of pressure by the Iranian government because they are a minority and they are Sunnis and they say that's the reason why they have turned to armed militancy. But the Iranian government says they are drug smugglers and they are in contact with Al-Qaeda and the Taliban, but the person who called us denies these claims."
On 7 January, Interior Minister Mustafa Purmohammadi said Iran has identified the hostage takers. He said the kidnappers are members of a pro-Taliban group, supported by the United States. Iranian officials have said they believe the hostages have been transferred to Pakistan but Rigi claims that they are being held in Iran.
Iranian Foreign Ministry spokesman Hamid Reza Assefi has said that Iran is doing all it can to secure their release
Turkey has said its three citizens were abducted in late December near the Iranian city of Zahedan, where the borders of Iran, Pakistan, and Afghanistan meet. Turkish Foreign Minister Gul told reporters today that the three freed Turkish hostages would travel to Tehran before returning to Turkey on 18 January. AP identified the freed Turks as Serdar Durna, Yurdaer Etike, and Avni Ozan.
Radio Farda's correspondent in Turkey reported that a Turkish delegation traveled to Pakistan to try to locate the hostages in the event they had been smuggled across the border.
The kidnappers had reportedly demanded a ransom. On 15 January, Agence France Press quoted an unidentified Turkish diplomat as saying that the kidnappers of the Turkish tourists were "a gang of drug smugglers" demanding a ransom of 1 million euros ($1.2 million) each.
The eastern area of Iran is a major route for drug traffickers and clashes between police forces and drug smugglers are regularly reported in the area.

FOCUS ON YOUTH: Kaveh Basmenji is the head of RFE/RL's Persian-language Radio Farda. He was born in Tehran in 1961 and began working as a journalist at the age of 16. He recently spoke with RFE/RL correspondent Golnaz Esfandiari about his book "Tehran Blues" (Read an excerpt from the book.) and the role of youth in Iranian society today... (more).
See also:
Interview: The Voice Of Iran's Youth
Iranian Youth Movement Has Untapped Potential
Prize-Winning Documentary Exposes Hidden Side Of Iranian Society
PEN Launches Campaign In Support Of Women 'Cyber-Dissidents'