Russian Estimates 750 Militants In Chechnya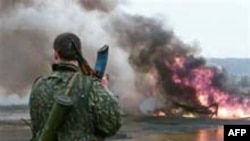 A Russian soldier in Chechnya (file photo) (AFP) 17 January 2006 -- A senior Russian commander said up to 750 militants are active in Russia's troubled southern republic of Chechnya.
Oleg Khotin, the head of Interior Ministry's forces in Chechnya, said the militants are divided into approximately 75 small groups. He said around 40 of the militants are believed to be foreigners.
Khotin added that the militants are concentrated in Chechnya's south, but acknowledged they retain a significant presence in the regional capital, Grozny.
Russia has been fighting separatists in Chechnya since the mid-1990s.
(ITAR-TASS, Interfax, AP)


RFE/RL's complete coverage of Russia's war-torn Republic of Chechnya.
CHRONOLOGY
An
annotated timeline
of the Chechnya conflict.