Russian Troop Casualties Down In Chechnya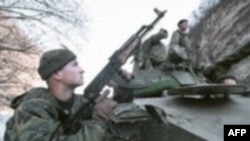 A Russian solder in Chechnya (file photo) (AFP) 30 December 2005 -- The commander of Russian Interior Ministry troops in Chechnya, General Nikolai Rogozhkin, told reporters today that losses among ministry troops serving in Chechnya were down by some 40 percent in 2005, compared to the previous year.
Rogozhkin said there were currently some 24,600 Interior Ministry troops serving in Chechnya. He detailed the operations they conducted during the year but did not give any specific
casualty figures.
Rogozhkin visited medics at the military hospital and told them their professionalism and self-sacrifice is saving military lives.
(ITAR-TASS)


RFE/RL's complete coverage of Russia's war-torn Republic of Chechnya.
CHRONOLOGY
An
annotated timeline
of the Chechnya conflict.