Four Dead In Chechnya Clashes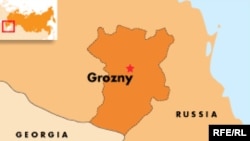 (RFE/RL) 29 December 2005 -- An official from the Kremlin-backed Chechen administration says three Russian soldiers and one pro-Moscow Chechen military officer have been killed in fighting in the province.
The official said Russian troop positions came under fire from separatist rebels 13 times in a 24-hour period, killing one soldier and injuring five.
Two other soldiers were killed and another two injured when their truck came under fire near Vedeno in southern Chechnya.
A firefight in the Nozhai-Yurt region in eastern Chechnya yesterday left one pro-Moscow fighter dead and one injured. Two rebels were also killed.
Russian forces suffer daily casualties in the guerrilla war in the southern province, despite Kremlin-led efforts at a "political normalization" of the conflict.
(AFP)


RFE/RL's complete coverage of Russia's war-torn Republic of Chechnya.
CHRONOLOGY
An
annotated timeline
of the Chechnya conflict.