Putin Makes Surprise Visit To Grozny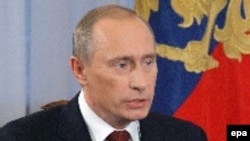 President Putin (file photo) (epa) 12 December 2005 -- Russian President Vladimir Putin made a surprise visit to Chechnya today to welcome the opening of the new parliament in Russia's restive southern republic.
Upon arriving in the capital Grozny by helicopter, Putin said he wanted to thank "all those who took part in the [Chechen] elections and in the peace process as a whole."
Today's parliamentary session is the first in Chechnya since 1999, when Putin, who was then prime minister, sent troops to restore Russian rule in the republic.
Chechen separatist rebels took no part in the 27 November election, calling it a farce. The pro-Kremlin Unified Russia party won more seats (33) than any other party in the 58-seat parliament.
Russian and international human rights activists called the election a "pretense" of a political process. There were few international observers at the poll.
(Reuters/AFP/rbc.ru)