BRUSSELS, 18 January 2006 (RFE/RL) -- By far the most popular term applied during the 17 January parliamentary debate to the Russian-Ukrainian gas dispute was "wake-up call."
All deputies agreed Europe must address the dangers inherent in depending on outside sources for something as vital as energy. A quarter of EU gas imports now come from Russia and that figure is expected to increase.
The EU's energy commissioner, Andris Piebalgs, also emphasized in his address to the parliament that the settlement to the Russian-Ukrainian dispute over gas prices did not resolve the issue for good.
Not The End Of The Matter
"While it is reassuring in the short term that an agreement was reached between Ukraine and Russia, we must be under no illusions. The issue has not gone away. Commercial negotiation between the two sides will continue in order to find a price-adjustment formula that is mutually acceptable to both sides," Piebalgs said.
Piebalgs noted the same applies to the deal that was struck between Russia and Moldova on 16 January.
During the debate in the European Parliament, views differed over what lessons Europe should draw from the Russian-Ukrainian dispute, which affected gas deliveries in nearly 10 member states.
Two somewhat contradictory approaches prevailed. Polish deputies -- backed mostly by colleagues from other new member states -- demanded a tough approach toward Russia. Others noted that the EU's dependence on Russian energy is such that it cannot be ignored in the foreseeable future.
Differing Approaches
EU decision makers appeared to back the latter view. Austrian Economic Minister Martin Bartenstein, representing the current EU chair, said that securing a "constant, unbroken supply of gas for European producers, industry, and households is absolutely indispensable."
Giles Chichester, a British conservative and head of the Parliament's energy committee, was one of the few deputies to strike a conciliatory note.
"It is important that we retain a sense of proportion about this matter. The trade in gas between Russia and EU member states remains commercially viable just as long as each has something the other wants. The import-dependence of EU member states and the related increasing dependence on natural gas is hardly a secret," Chichester said.
Search For Alternatives
Austrian Minister Bartenstein indicated the only way to break Russia's hold on EU energy provision is to look for alternative providers, transit routes, and energy sources. Decades will pass before any such measures will have a discernible effect.
The EU currently does not even have a joint energy policy. Energy policy is a matter for the member states, and the parliament has no direct say in it -- although its discussions are an important way of generating public debate.
Jacek Sairusz-Wolski, a right-wing Polish deputy and a vice president of the parliament, on 17 January argued for a much more critical stance toward Russia.
"We were recently made aware, however, [that] the problem of energy policy does not concern solely the area of industry or economics," Sariusz-Wolski said. "Energy has been used as a weapon and a foreign-policy instrument and hence should be discussed within the context of foreign and security policy."
Sariusz-Wolski said the EU must show especial solidarity to those vulnerable member states in the east whose dependence on Russian energy is near-total.
'Divide And Rule'?
Russia came in for harsh criticism from many deputies, most of them from Poland and other new member states. Moscow was accused of blackmailing, bullying, and attempting to destabilize its neighbors.
The Russian-German North European gas pipeline under the Baltic Sea attracted particular disapproval. Many speakers quoted it as an example of how the EU allows Moscow to pursue a "divide and rule" policy with regard to the union.
Criticism of Russia was uniform among all major political factions. Hannes Swoboda, a German deputy who spoke for the Socialists, said that while the EU needs a partnership with Russia, it cannot accept what Moscow did to Ukraine.
Commissioner Piebalgs appeared to concede that Russia is using gas to political ends, noting that the no-confidence vote suffered by Ukraine's government was a direct upshot of the gas dispute.
However, he underscored the fact that the EU has remained and will remain neutral in such conflicts.
Gas Facts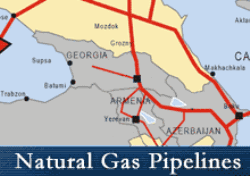 Click on the map for an enlarged image.
Ukraine consumes 70 billion cubic meters (bcm) of gas per year. It produces 20 bcm of its own gas, has a signed contract to import 40 bcm from Turkmenistan, and in 2005 was getting 29 bcm from Russia as payment for transit of Russian gas.
Ukraine sells some 7 bcm of gas a year to the West and places some in underground storage facilities. These facilities can hold 34.5 bcm.
Ukraine is the sixth-largest consumer of gas in the world and uses more gas than Poland, the Czech Republic, Hungary, and Slovakia combined.
Russia has proven gas reserves of 47 trillion cubic meters (tcm) -- the largest in the world ahead of Iran and Qatar.
Russia sells approximately 160 bcm to Europe each year. By 2015, Europe is expected to import 300 bcm, or 40 percent of its projected needs from Russia.
Russia's Gazprom is the world's largest gas company. It is the only company allowed by Russian law to export gas outside the borders of the CIS. It also owns the gas-transportation system and most of the gas fields in Russia.
The Russian state is Gazprom's majority shareholder , with a 51 percent share. The company's ownership rights changed as of the beginning of 2006, with Gazprom stock being sold on the open market. The Russian state, however, will continue to hold the majority stake.