Croatia Asked To Consider Asylum For Tariq Aziz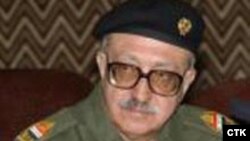 Former Iraqi Foreign Minister Tariq Aziz is ailing and might be released from prison (file) (CTK) 18 January 2006 -- A Croatian official today said that lawyers for former Iraqi Deputy Prime Minister Tariq Aziz have asked Croatia to consider granting Aziz asylum if he is released from U.S. custody.
Croatian Foreign Ministry spokeswoman Ivana Crnic did not say if Croatia will respond to the request.
Lawyers are seeking Aziz's release, citing medical reasons. AP quotes lawyer Badee Izzat Aref as saying Aziz "is in his last days."
Aziz is 69. He was arrested after the 2003 U.S.-led invasion of Iraq that toppled the former Iraqi government. He is currently being held in a U.S. detention facility under an agreement with Iraq's new
government.
(AP)