Mutual Support
Close Tehran-Damascus relations can be traced to the 1980-1988 Iran-Iraq War, when Syria assisted Iran militarily and even resisted Saudi efforts to reconcile Baghdad and Damascus in an attempt to create a united Arab front against Tehran. Christin Marschall writes in her 2003 book, "Iran's Persian Gulf Policy," that Syria also served as a mediator between Iran and the Arab states of the Persian Gulf when they were unable to communicate directly, and it played a prominent role in the shuttle diplomacy of early 1988.
Cooperation in dealing with the international community, involvement in Lebanese affairs, support for terrorist organizations, and trade -- are likely to emerge during Ahmadinejad's visit to Syria. But if the two sides do sign a military agreement, it is sure to overshadow everything else.
Iran was therefore quick to show its support for Syria in 2004 after United Nations Security Council Resolution 1559 called for the withdrawal of foreign forces from Lebanon, when 15,000-20,000 Syrian troops were in the country. Shortly after the resolution's passage, then-President Hojatoleslam Mohammad Khatami visited Damascus and, referring to U.S. and Israeli pressure on Syria, Iran, and Lebanon, said coordinated activities would divert this pressure (see "RFE/RL Iran Report," 11 October 2004).
Iran's support was forthcoming a few months later, too, after Syria became the prime suspect in the February 2005 assassination of former Lebanese Prime Minister Rafiq Hariri. When Syrian Prime Minister Muhammad Naji al-Utri visited Tehran in late February, Iran reportedly offered advice on resisting possible economic sanctions in the face of U.S. pressure (see "RFE/RL Iran Report," 21 February 2005).
After that, Syrian and Iranian officials visited each other's capitals with some frequency, with the highlight being President Bashar al-Assad's 7-9 August visit to Iran. Iran's new president told the visitor that common threats require their cooperation (see "RFE/RL Iran Report," 15 August 2005).
The day before heading for Syria -- 18 January -- Ahmadinejad described the reasons for his trip. Some -- trade and culture -- were innocuous, while others were more ominous. For example, Ahmadinejad said, "Our stand regarding regional issues, and our objection against interference of foreigners in the Middle East, is quite clear," IRNA reported.
Ahmadinejad's stance reflects earlier comments by Supreme Leader Ayatollah Ali Khamenei, who warned in a 9 January speech about U.S. interference in Syria and Lebanon. He said, "Today, the Americans are meddling with Syria and Lebanon. They want to penetrate into the Zionist regimes' neighboring countries and find a way into other Islamic and Arab countries," state radio reported.
Shared Interests
Lebanese legislator Jumblatt warns that Syria and Iran will sign a defense pact during Ahmadinejad's visit, Lebanon's daily "Al-Mustaqbal" reported on 12 January. The purpose of this pact, he continued, is to link Lebanon with the Iran-Syria axis, and it reflects right-wing control in Tehran and the strong relationship between Ahmadinejad and Lebanon-based Hizballah. Jumblatt said in the daily that "Hizballah in particular is in favor of linking Lebanon to Syria and Iran at the expense of Lebanon's independence, freedom, and democratic track."
Syria and Iran were closely involved in the emergence of Hizballah more than two decades ago. Magnus Ranstorp's 1997 book, "Hizballah in Lebanon," asserts that Syria permitted the deployment of an Islamic Revolution Guards Corps detachment from Iran to Lebanon's Bekaa Valley and the two countries signed a military agreement. Ranstorp also writes that Syria acceded to Hizballah's taking of Western hostages mainly because of Damascus' relationship with Tehran, and he adds that because Syria controlled parts of the valley where the Iranians and Hizballah operated, it facilitated the hostages' movement.
Although Iran contributed to Hizballah's emergence in many ways, the organization is apparently not directed from Tehran. Iran acknowledges a relationship with Hizballah, but it admits only to the provision of moral and political support. The U.S. State Department considers Hizballah a foreign terrorist organization and it reports that Iran, as well as Syria, provide assistance to Hizballah, as well as Hamas, the Kurdistan Workers Party (PKK), the Palestinian Islamic Jihad, and the Popular Front for the Liberation of Palestine -- General Command. The State Department views Iran and Syria as state sponsors of terrorism.
It is appropriate to examine the late-December arrival in Damascus of the new Iranian ambassador, Mohammad Hassan Akhtari, within this context. Akhtari served in the same position from 1989-1997 and, according to Ranstorp's book, it is mostly through the Iranian Embassy that Hizballah networks in Lebanon received instructions.
Bilateral Trade
The Syria-Iran relationship involves commercial issues as well as politics, and Iranian officials said in 2005 that bilateral trade is at the $700 million mark. It is possible that some trade deals will be signed during Ahmadinejad's visit. The two countries discussed signing a free trade agreement in 2005.
All these subjects -- cooperation in dealing with the international community, involvement in Lebanese affairs, support for terrorist organizations, and trade -- are likely to emerge during Ahmadinejad's visit to Syria. He probably will visit the shrine of Sayyida Zaynab -- the sister of Imam Husayn -- as well. But if the two sides do sign a military agreement, it is sure to overshadow everything else.
The Structure Of Iran's Government
The Structure Of Iran's Government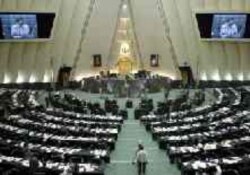 INSIDE THE ISLAMIC REPUBLIC: Iran is a theocratic Islamic republic governed under a 1979 constitution that was revised in 1989, when presidential powers were expanded and the prime minister's post was abolished.
Appointed -- not elected -- offices and bodies hold the real power in the government. The supreme leader, who serves as a chief of state would, is appointed for life by an Islamic religious advisory board that is called the Assembly of Experts. The supreme leader oversees the military as well as the judiciary and appoints members of the Guardians Council and the Expediency Council.
The Guardians Council -- some of whose members are appointed by the judiciary and approved by the parliament -- works closely with the government and must approve political candidates and legislation passed by the parliament. The Expediency Council is responsible for resolving legislative disputes that may arise between parliament and the Guardians Council over legislation.
The president, who is popularly elected for a four-year term, serves as the head of government. The legislative branch is made up of a 290-seat body called the Majlis, whose members are elected by popular vote for four-year terms...(more)
ARCHIVE
RFE/RL's
coverage of Iran
.