The board of the UN's nuclear watchdog, the International Atomic Energy Agency (IAEA), is set to discuss the issue in early February and may vote to refer Iran to the UN Security Council for possible sanctions.
On 14 January, Sergei Ivanov, the Russian defense minister, was reported as saying that "if Iran does not stop all research and practical work on uranium enrichment, the referral of the Iranian nuclear dossier to the UN Security Council cannot be ruled out."
The same day, Sergei Mironov, the speaker of Russia's upper house of parliament, the Federation Council, said the referral would be a "natural move."
Not So Simple
Since then, however, Russia has made clear it will not be pigeonholed in its stance on Iran.
As momentum gathered for a crackdown on Tehran, Russian Foreign Minister Sergei Lavrov on 17 January joined the West in rejecting a call by Iran for fresh negotiations, saying no new talks would be held until Iran brought to a halt the atomic fuel research work it resumed last week.
For now, Russia appears to be keeping its options open. What may be happening behind the scenes is a battle between three political camps.
But Lavrov also said Russia was not yet ready to join Western moves for Iran to be referred immediately to the United Nations Security Council for possible sanctions.
EU foreign-policy chief Javier Solana said 18 January that Russia has proposed a delay in referring Iran to the Security Council, and that a proposal by Moscow -- originally rejected by Tehran -- to enrich uranium for Iran on Russian soil remains a possibility.
The United States and the so-called EU-3 of Britain, France, and Germany, feel the Security Council, with its powerful enforcement mechanism, is the best forum for resolving the Iran nuclear crisis. But Russia and fellow Security Council member China hope the issue can be resolved within the IAEA, which has no substantial punitive power of its own.
Traditional Ties
There are economic and geopolitical interests behind Russia's softer stance on Iran. Most notably, there is the $1 billion Bushehr nuclear power station that Russia is set to complete in Iran this year -- a project that was strongly opposed by Jerusalem, which sees Iran as its primary security threat, and Washington.
Then there are energy ties. Russia's "Nezavisimaya gazeta" reported that Russia's state-controlled Gazprom monopoly has invested up to $750 million into a number of energy projects in Iran. Russian exports to Iran of metals and machine manufacturing supplies have reached a total of about $2 billion a year.
A second key area of Russian exports is arms sales, which resumed in 2000 after Russia left the so-called Gore-Chernomyrdin protocol, a secret agreement between Moscow and Washington about restricted arms deliveries to Iran.
In late December 2005, Russia signed a deal worth $700 million with Iran to sell 29 of its Tor M-1 antimissile systems. And there is room for such sales to grow. Russian officials with ties to the country's military-industrial complex will be loathe to sacrifice these sales for the sake of UN sanctions.
Russia in October 2005 also launched a booster rocket carrying eight satellites, one of which belonged to Iran. There are plans to launch a second Iranian satellite in 2007.
Uneasy Neighbors?
Geopolitically, Iran is Russia's biggest neighbor in the Caspian, where Moscow is looking to restore its influence and take advantage of short transport corridors leading to the Persian Gulf.
But in late 2005, Russia began distancing itself from the strong anti-Semitic rhetoric of Iranian President Mahmud Ahmadinejad, and complying with Western desires to use its close ties with the Islamic Republic as a lever in the nuclear issue.
This was in part because of Russia's desire to maintain special relations with Israel. An important commercial ally for Russia, Israel also has strong ties with the United States.
Russia and fellow Security Council member China hope the issue can be resolved within the IAEA, the UN's nuclear watchdog.
Jerusalem soon joined the United States and Western Europe in urging Russia to intervene on the Iranian nuclear issue, and on 17 January, sent its top security and atomic-energy officials to Moscow to press the point.
It remains to be seen whether Iran will be referred to the Security Council, or how veto-wielding China and Russia will act in such a case. Although Beijing and Moscow are currently united in their opposition to sanctions, sanctions would have a different impact on each.
Sanctions would mean a cutoff in Iranian oil supplies, leading to a drastic increase in world oil prices -- a massive boon to supplier nations like Russia, and a major setback to increasingly energy-hungry consumer nations like China.
For now, Russia appears to be keeping its options open. What may be happening behind the scenes is a domestic battle between three political camps: pro-economic forces who relish the thought of Russia profiting from Iran sanctions, foreign-policy watchers seeking stronger ties with the West, and defense-industry stalwarts who hope to boost military sales to Tehran.
Who's Got The Bomb?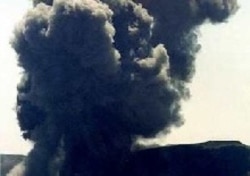 DECLARED NUCLEAR-WEAPONS COUNTRIES:
country warheads (est.) date of first test
United States 10,500 1945
Russia 18,000 1949
United Kingdom 200 1952
France 350 1960
China 400 1964
India 60-90 1974
Pakistan 28-48 1998
North Korea 0-18 2006
Notes:
Israel is widely believed to possess nuclear weapons, but it has not declared itself a nuclear-armed country.
South Africa constructed six uranium bombs but voluntarily dismantled them.
Belarus, Kazakhstan, and Ukraine all gave up the nuclear weapons that were on their territory when the Soviet Union collapsed in 1991.