Chechen Human Rights Activist Suspends Hunger Strike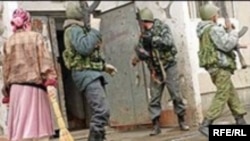 Security forces in operation in Chechnya (file photo) (RFE/RL) 19 January 2006 -- A French-based Chechen human rights activist who had been on hunger strike for nearly six weeks in the eastern French city of Strasbourg has said he will end his protest.
In comments posted on the pro-Chechen independence website Kavkaz-Center on 19 January, Said-Emin Ibragimov says he made his decision after receiving assurances that he would be given the opportunity to address the 23-27 January session of the Parliamentary Assembly of the Council of Europe (PACE) on human rights violations in Chechnya.
Ibragimov, a former minister in the Chechen separatist government, is calling upon the Council of Europe, of which Russia is a member, to condemn the war in Chechnya as a mass violation of human rights.
Earlier this week, the PACE rapporteur on Chechnya, German Socialist parliamentarian Rudolf Binding, wrote Ibragimov a letter urging him to end his hunger strike.
(Kavkaz-Center)


RFE/RL's complete coverage of Russia's war-torn Republic of Chechnya.
CHRONOLOGY
An
annotated timeline
of the Chechnya conflict.