Speaking on 20 January, Agriculture Minister Mehdi Eker said that "it is unofficially known that this disease bird flu exists in countries that neighbor us that are ruled by closed regimes, but these countries are not announcing this because of [the nature of] their systems."
Eker did not name specific countries.
Turkey's neighbors include Iran, Armenia, Georgia, Iraq, and Syria. Syria quickly denied Eker's remarks.
The World Health Organization said on 19 January that the bird-flu situation in Turkey is improving.
Bird flu has killed four children in Turkey since December. Ankara has registered 21 other cases of bird-flu infections in humans.
(AFP, AP, dpa)
Affected Areas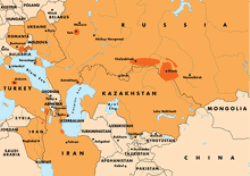 Click on the map for a closer view of the areas within RFE/RL's broadcast region where cases of diseased fowl have been confirmed. Last updated on February 20.


BIRD FLU, or avian influenza, continues to menace scattered areas from East Asia, where the disease first appeared, to Southeastern and Eastern Europe and beyond. Authorities around the world are bracing themselves -- and, more importantly, planning and taking measures to fight the disease wherever it appears.
Stories Of Particular Interest:
Bird-Flu Expert Discusses Issue Of Migratory Birds
Bird Flu: As European Worries Grow, Some See Benefits In Alarm