PRAGUE, 23 January 2006 (RFE/RL) -- Kazakh President Nursultan Nazarbaev says his country will join the world's leading 50 economies in the next decade.
He made the statement during his presidential campaign and reiterated it at his inauguration ceremony in Astana on 11 January.
"I have a long-time goal to lead Kazakhstan to become one of the world's 50 most competitive countries in the next decade," he said. "Development is defined not only by the economy, or income per capita, or gross domestic product. I am talking about four main dimensions in the development of the country. These dimensions are economic, political, social, and cultural and they will require a comprehensive program that involves serious economic, administrative, political, and legal changes."
Booming Growth
In the last five years, Kazakhstan's gross domestic product (GDP) has grown by an average of 9-10 percent annually.
The government's preliminary data seem to endorse Nazarbaev's ambitious goal, even though final economic results for 2005 are not available yet.
Experts also warn that the scale of Nazarbaev's victory in last month's presidential election suggests that his family members and friends are likely to further tighten their control over economic resources as well as to alienate some of his allies.
The head of Kazakhstan's National Statistics Agency, Kali Abdiyev, said (on 13 January) that the country's GDP for 2005 is expected to be about 9.2 percent.
As compared with 2000, GDP is expected to double in 2008, the official said. This is one of the highest rates of growth in the Commonwealth of Independent States.
Landslide In Flawed Election
Nazarbaev touted economic growth and high per-capita income as well as stability as he campaigned for presidential office. In the 4 December polls, he got an overwhelming 91 percent and was reelected for another seven-year term. Western observers announced that the election was flawed.
But some independent economists say Kazakhstan's rapid economic growth is not only due to the current leadership's reform policies.
Dafne Ter-Sakarian, a senior analyst with the London-based Economist Intelligence Unit (EIU), tells RFE/RL that Nazarbaev "happened to be a president" at a time when the world's oil prices are high: "The main factor [behind Kazakhstan's economic growth] is a good external environment which means that oil prices are very high, and this not only has an impact in terms of encouraging oil output but also encourages investment into the sector because it makes projects very attractive, especially because oil prices are expected to remain at high levels over the medium term, at least."
Dependence on natural resources and world prices makes a national economy vulnerable. Therefore, Kazakhstan's leadership announced that other -- non-oil sectors of the economy should be developed, too. Among them are the production of machinery for the energy sector, metallurgy, textiles, and telecommunications.
Not Implementing Reforms
However, Ter-Sakarian says the government has yet to demonstrate the political will to implement the announced reforms. "The problem in Kazakhstan is implementation," she said. "You know, the government can say: 'We want these sectors to grow.' But the investment environment isn't great. There is a lot of corruption. This makes investment quite difficult. And equally, because the Nazarbaev family is so entrenched, you have to have [the] right connections to invest in Kazakhstan. And you also can't be sure the member of the Nazarbaev family won't come and take your business if it does very well."
In the early years of independence, Kazakhstan started developing the energy sector and privatizing banks with more vigor than its neighbors. It soon became a top reformer among the post-Soviet countries. Even some reformist Russian politicians have mentioned the necessity of emulating the "Kazakh experience of economic reforms."
However, the pace of economic reforms slowed down gradually. Ter-Sakarian says structural reforms have stopped now. Major economic sectors are controlled by family members and cronies of Nazarbaev.
Oraz Zhandosov, a cochairman of the opposition party Naghyz Ak Zhol (True Bright Path), is a former chairman of the Kazakh National Bank and a former finance minister.
He agrees and also cites corruption, nepotism, and state interference into the private sector as obstacles to further economic development. "One of the mistakes of government officials is a willingness to either get involved in production themselves or create favorable conditions for some sectors in terms of taxes or others," he said. "This is one of the bad practices that impede real progress. So the state interferes in one or another economic sector instead of developing a private sector."
Zhandosov tells RFE/RL that the judiciary is controlled by Nazarbaev and therefore leaves no room for challenging state interference into economic affairs.
In addition, he adds, the ailing education system is unable to produce high-quality specialists, and therefore the national economy is likely to face a scarcity of qualified resources in the future.
Because of these, Zhandosov says, Nazarbaev's promise to include Kazakhstan in the world's top 50 economic countries is unrealistic.
London's Economist Intelligence Unit forecasts that Kazakhstan will continue to have more than 8 percent GDP growth in the next few years, although the pace of economic expansion is expected to slow down this year and in 2007.
The think-tank's experts also warn that the scale of Nazarbaev's victory in last month's presidential election suggests that his family members and friends are likely to further tighten their control over economic resources as well as to alienate some of his allies. This, in turn, will pose a threat to the country's stability in the near future.
A Discussion Of The Kazakh Election
A Discussion Of The Kazakh Election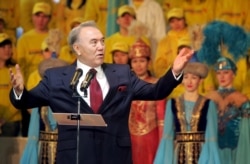 Kazakh President Nursultan Nazarbaev addressomg a rally of supporters on the day following the December 4 vote (epa)

DANGEROUS TO BE IN THE OPPOSITION: On December 8, RFE/RL's Washington office hosted a discussion of the December 4 presidential election in Kazkhstan. RFE/RL Kazakh Service Director MERHAT SHARIPZHAN and RFE/RL Central Asia Analyst DANIEL KIMMAGE participated in the discussion.
Sharipzhan highlighted the difficulties faced by opposition candidates -- including the untimely deaths of prominent opposition leaders -- and argued that they effectively chilled the political environment in the country. He also noted that the government repeatedly confiscated opposition newspapers during the campaign. However, he noted that Kazakhstan's relatively strong economy boosted Nazarbaev's popularity. Kimmage discussed Nazarbaev's pledge to proceed with democratization only after the economy is put in order, describing the political system in Kazakhstan as a form of "managed democracy."
Listen to the complete panel discussion (about 90 minutes):
Real Audio Windows Media



RFE/RL's complete coverage and background of Kazakhstan's presidential election on December 4, 2005.