Georgia To Support Kazakhstan's OSCE Chairmanship Bid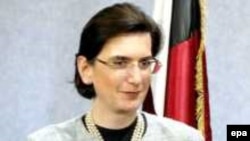 Nino Burjanadze (file photo) (epa) 20 January 2006 -- Georgian Parliament Speaker Nino Burjanadze, who is on a visit to Astana, today said her country would support Kazakhstan's bid to hold the rotating chairmanship of the Organization for Security and Cooperation in Europe, or OSCE, in 2009.
Addressing reporters after talks with Kazakh Foreign Minister Kasymzhomart Tokaev, Burjanadze said Kazakhstan could play an important role in helping the OSCE shift efforts eastward, including on former Soviet countries.
Burjanadze on 19 January held economic talks with Kazakh President Nursultan Nazarbaev.
Georgian President Mikheil Saakashvili has said that he wants Kazakhstan to replace Russia as his country's leading foreign investor.
Kazakhstan's Bank TuranAlem said on 13 January that it had plans to invest into the construction of hotel facilities in Tbilisi and the autonomous republic of Ajara. The bank also said it was considering participating in the construction of an oil refinery and several hydroelectric plants in Georgia.
(Novosti-Gruziya, Civil Georgia, Bank TuranAlem statement)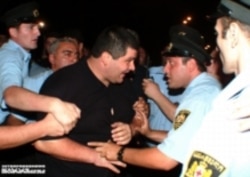 Georgia's police have been accused of using excessive force (official site)


READ
'CULTURE OF IMPUNITY':
Georgian President Mikheil Saakashvili's government has had
a checkered human rights record
since it came to power after the 2003 Rose Revolution. The international community has welcomed the steps taken by the new Georgian leaders to refine the legal mechanisms needed to combat rights abuses. But it also blames the government for failing to ensure those mechanisms are properly implemented
....(more)
RELATED ARTICLES
Rights Group Sees Rise In Police Brutality In Georgia
Citizens See No Improvement In Society, Economy After Revolutions
Helsinki Report Finds Human Rights Problems Plague Entire Region