Media-Rights Group Condemns Kazakh Government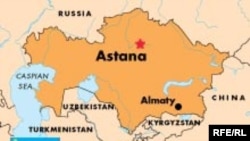 (RFE/RL) 20 January 2006 -- The Committee to Protect Journalists (CPJ) has criticized the Kazakh government for allowing a printing company to stop publishing several opposition newspapers.
In a statement issued today, the media-rights group urges President Nursultan Nazarbaev to pressure the printing company, Dauir, to renew its contracts with the seven newspapers.
Dauir is owned by Nazarbaev's sister-in-law, Svetlana Nazarbaeva. It discontinued the printing of the seven newspapers on 1 January, saying it was changing equipment.
However, the Committee to Protect Journalists quotes local Kazakh media activists as saying the newspapers were being harassed for their critical coverage of Nazarbaev, who has ruled Kazakhstan since Soviet times and won a landslide reelection victory in December.
(AFP)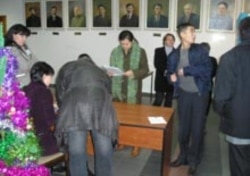 Workers at Almaty polling station No. 310 registering election monitors prior to the opening of voting on December 4


To see more images collected by RFE/RL's Kazakh Service during the voting on December 4,
click here.



RFE/RL's complete coverage and background of Kazakhstan's presidential election on December 4, 2005.