PACE Condemns Communist-Era Human Rights Abuses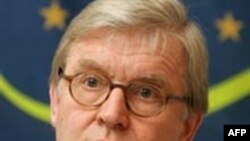 René van der Linden, president of the Parliamentary Assembly of the Council of Europe (file photo) (AFP) PRAGUE, 25 January 2006 (RFE/RL) -- The Parliamentary Assembly of the Council of Europe, PACE, has condemned widespread human-rights violations committed by totalitarian communist regimes in the past.
The assembly said that communist regimes committed executions, deportations, torture, forced labor, and other forms of physical terror.
The group singled out citizens of the former Soviet Union as among the most persecuted, in terms of sheer numbers.
In a statement, PACE called on all communist and post-communist parties in Council of Europe member states "to reassess the history of communism and their own past [...] and condemn them without any ambiguity."
But the group failed to pass a draft recommendation calling on European governments to adopt an official declaration on communism and to carry out legal investigations of individuals suspected of carrying out communist crimes. The draft failed to find the needed two-thirds majority.
(with material from RFE/RL's Romanian Service, AFP)