World: Rights Group Says It's Time For A Woman To Lead The UN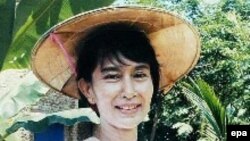 Myanmar opposition leader Aung San Suu Kyi, seen here in 2002 (epa) An international effort is afoot to encourage the selection of a woman to serve as the next secretary-general of the United Nations. Equality Now, a public-awareness group to combat violence and discrimination against women, is behind the campaign. Organizers are asking how a multilateral organization dedicated to equality, development, and peace can justify 60 years of strictly male leadership. With less than a year remaining in Secretary-General Kofi Annan's stewardship, Equality Now has issued a list of women it thinks are well suited for the job.
PRAGUE, 26 January 2006 (RFE/RL) -- Jackie Hunt, Equality Now's director in London, is quick to point out that the UN has never elected a woman to be secretary-general despite the number of qualified candidates. The result, she says, potentially reduces UN effectiveness.
"The United Nations is losing out by not really embracing the fact that there are several qualified women around the world -- it might be missing out on huge potential," Hunt says. "What we are saying is, 'Let's have a transparent process' -- which there isn't at the moment -- 'Let's see what qualified candidates are around the world' -- including women -- and, 'Let's make the best choice.'"
Abandoned Goals
More than a decade after the Fourth UN Conference on Women in Beijing, Equality Now says the goals of that meeting remain unmet. Figures from June show that only about 16 percent of UN undersecretaries are women.
Hunt says such unequal access to the decision-making process hinders progress toward declared UN goals.
"In the General Assembly every year, there is a resolution on trying to get more women involved -- certainly that's the goal," Hunt says. "In Beijing, in the platform for action, they called for the development of mechanisms to nominate women candidates for appointments to senior posts of the UN. And they set a target by the year 2000 for overall general equality, particularly at the professional level and above."
Jockeying Already Under Way
The push to appoint a woman to the UN's top post comes with lobbying already under way and interviewing of potential candidates just around the corner.
Carne Ross is an expert on UN affairs at the Chatham House and director of Independent Diplomat, a nonprofit diplomatic-consultancy group. He tells RFE/RL that the UN secretary-general is appointed for five years by the General Assembly on the recommendation of the Security Council. But Ross adds that -- in reality -- the process is much more complicated.
"It's a fairly mysterious process; the real election is one of private consultation, above all, with the permanent five members of the Security Council," Ross says. "But technically there is voting in the General Assembly, which endorses him. In reality, the process is one of some kind of magical political consensus on who the figure should be."
British Ambassador to the UN Emyr Jones Parry was quoted by the "London Times" on 4 January as saying that the selection should be able to meet the demands of the job, including leading UN reforms. If that analysis produces a woman, he said, then "there we are."
Naming Names
Equality Now's list of women with the relevant experience identifies current and former senior UN officials, heads of state, and ministers.
The names include: UN High Commissioner for Human Rights Louise Arbour; a former executive director of the UN Population Fund, Nafis Sadik; and Nobel Peace Prize winner Aung San Suu Kyiof Burma.
Hunt says the list represents just a small sampling, but drives home the point that there are clearly women who could fill the post.
"We didn't contact them about including them on our list, and they haven't indicated whether or not they wish to be considered," Hunt says. "What we were trying to do was just to point out that around the world there are very many qualified women, and it wouldn't take much to look around and to find a suitably qualified woman candidate."
Political Support
But consultant Ross says he doubts that a woman will be chosen as the next UN secretary-general. He points out that the candidates proposed by Equality Now are lacking the necessary political support.
"I think it would be wonderful if it were [a woman elected], and it would send a very powerful message to the world," Ross says. "And my experience with women diplomats and women statepersons is that they are extremely good, but unfortunately I think it's unlikely to happen. I think it's going to be very, very difficult to select the next UN secretary-general in the very charged and divided world that we have today. It [will] be very hard to find any figure who carries the support of all the main powers in the UN."
Ross also notes that the informal tradition of rotating the top UN spot according to region suggests an Asian will be selected to succeed Kofi Annan, whose term comes to a close at the end of December.
The Next UN Secretary-General?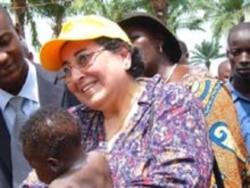 Thoraya Ahmed Obaid (courtesy photo)

The women's rights group Equality Now has noted that no woman has held the position of secretary-general of the United Nations in its 60-year history. While geographic regions take "turns" in nominating candidates, women have never had their "turn," despite many qualified candidates. Below -- in no particular order -- is a selection of some of the women that Equality Now has put forth as possible candidates for secretary-general.
SADAKO OGATA served as the United Nations High Commissioner for Refugees (UNHCR) from 1991 to 2000. Before her career as UNHCR, she was the independent expert of the United Nations Commission on Human Rights on the Human Rights Situation in Myanmar in 1990. In 1982-85, she was also representative of Japan on the United Nations Commission on Human Rights. Ogata has also been a prominent academic figure, serving as dean of the Faculty of Foreign Studies at Sophia University in Tokyo from 1989 until 1991. Prior to that she was director of the Institute of International Relations at the same university.
TARJA KAARINA HALONEN is the current and first female president of Finland. She is currently running for a second term. Halonen has a master of law degree from the University of Helsinki. She is a very popular politician and she was Finland's foreign minister from 1995 until 2000.
AUNG SAN SUU KYI is the 1991 winner of the Nobel Peace Prize. As a pro-democracy campaigner and leader of the opposition National League for Democracy party (NLD), she has spent most of the past 16 years in some form of detention under Burma's military regime. Born on 19 June 1945 to Burma's independence hero, Aung San, Suu Kyi was educated in Burma, India, and the United Kingdom. Her father was assassinated when she was 2 years old.
THORAYA AHMED OBAID is the executive director of the United Nations Population Fund (UNFPA), the world's largest multilateral source of population assistance. Obaid was appointed head of UNFPA on 1 January 2001 with the rank of undersecretary-general of the United Nations. She is the first Saudi Arabian to head a United Nations agency. Before joining UNFPA, Obaid was deputy executive secretary of the Economic and Social Commission for Western Asia (ESCWA) from 1993-98. In 1975, Obaid established the first women's development program in Western Asia.
GRO HARLEM BRUNDTLAND served three terms as prime minister of Norway in the 1980s and 1990s and was director general of the World Health Organization (WHO) in 1998–2003. In the 1980s, she gained international recognition by championing the principle of sustainable development as the chairwoman of the World Commission of Environment and Development (the Brundtland Commission).
(Compiled by RFE/RL; to see the complete list, click here.)