Kabul, 28 December 2005 (RFE/RL) -- Habiba Sorabi was the minister of women's affairs in Afghanistan before becoming the first-ever female governor of Bamiyan Province. She says her political activities started when she was a university student, and that it has been a struggle.
"In a traditional and patriarchal society like Afghanistan, where men have always had the first word, made the decisions, given orders, and treated women as second-rate citizens who should obey them 100 percent like slaves, it is not easy for women to be in politics," Sorabi says.
Decades Of Obstacles
Afghan women have experienced various forms of oppression throughout the country's history, but it was especially intense during the Taliban era. The Taliban regime denied women all rights to education and employment and severely restricted their activities in public, including making them wear the all-covering burqa.
Some Afghan women continued their political activities in the neighboring countries of Iran and Pakistan and occasionally returned to Afghanistan under the cover of the burqa to meet with people.
Sima Samar was the first minister of the newly established Ministry of Women's Affairs in the transitional government of Hamid Karzai after the fall of Taliban. She is now the head of the Afghan Independent Human Rights Commission and a UN special rapporteur for human rights in Sudan.
In a recent interview, Samar shared with RFE/RL's Afghan Service one of her experiences during the time of communist rule.
"I think if I talk about all the problems I would feel the pressure now," Samar says. "During Khalq Party rule, they arrested my husband, along with his three brothers, who I never saw after that. Sixty-four people from my family were arrested. I spent Fridays, when I should have been studying, behind Pol-e Charkhi [prison] doors [visiting my relatives]."
Perseverance Pays
Afghan women say cultural and social constraints could not prevent them from assuming leadership positions.
"Afghan women proved in a short time that, not only on a national level but internationally, too, that they can take part in political activities," says Zahida Ansari, who is Afghanistan's new ambassador to Bulgaria. "In diplomacy, too, there is no problem [for women to handle the jobs]. You know that an ambassador's job, as the representative of the president, is to defend government policy and the rights of citizens in a foreign country within international law. It is a very important job and a big responsibility."
Mas'uda Jalal, Afghanistan's first female presidential candidate, says she persevered and didn't let cultural restrictions get in her way.
"My work, and what I did for the presidential campaign, didn't seem very difficult to me," Jalal says. "Other than long hours of work -- and I have worked more than 18 hours a day for several years -- there was no problem."
There are many Afghan women who say they would like to work in the social and political spheres but who believe they cannot do so because of family and social concerns. The Afghan women who are already involved in the nation's political activities say their families fully support them.
"Fortunately, I have not faced problems from my family," Bamiyan Governor Sorabi says. "They have been supportive. But in some cases, other relatives other than my husband have spread gossip and passed along negative remarks. But in Afghan society, there will be such talk."
Jalal, who is currently Afghanistan's minister of women's affairs, also says she has the full support of her family.
"My husband is optimistic about my goals. He has confidence in me," Jalal says. "Inside, at home, I never feel that I am a minister. I am a mother and wife for my husband. And at work, I work in that position."
Profile: Malalai Joya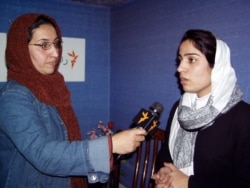 The roughly 90 female delegates could be spotted easily among the more than 300 members of the bicameral parliament at the opening session of the Afghan National Assembly. Twenty-seven-year-old
MALALAI JOYA
, representing the western Farah Province in the lower house, was among them.
...(more)

See also:
Women & Power In Central Asia (Part 1): The Struggle For Equal Rights
Women & Power In Central Asia (Part 2): Women Increase Presence In Kazakhstan's Business Sector
Women & Power in Central Asia (Part 4): Roundtable On The Tajik, Afghan, and Iranian Experiences