Prague, 29 December 2005 (RFE/RL) -- In the 1920s, when Bolshevik governments were set up throughout the region, Central Asian women experienced unprecedented changes.
Women threw off their "paranja" -- the Islamic dress that covers a woman from head to toe -- as the Soviet state introduced equal gender rights and formal equality under law, including quotas. Quotas were built into the school system, government, parliament -- and even the Soviet Army.
Many parents who received Soviet educations encouraged their daughters to study and pursue professional opportunities.
Yet all that changed in 1991 following the collapse of the Soviet Union. Women began losing ground as traditional gender stereotypes returned in the newly independent Central Asian republics.
"One of the things that happened after Uzbekistan became independent is rediscovery and a rebuilding of Uzbek nationalism," says Alison Gill, who researches Uzbekistan for the New York-based Human Rights Watch. "But, unfortunately, one of the negative consequences of that has been that the government -- as it has pursued its policy of reviving Uzbek nationalism and Uzbek identity -- has reverted to some old-fashioned, or traditional, ideas about women, and encouraged traditional gender stereotypes."
Along with a strengthening of those stereotypes, more and more girls are dropping out of secondary schools, according to the United Nations Development Program (UNDP).
The UNDP concluded in its 2005 report that Turkmenistan, Kyrgyzstan, and Kazakhstan are likely to maintain gender equality in primary and secondary education by 2015. But Tajikistan and Uzbekistan will be unable to eliminate gender disparity between girls and boys in schools, the report asserted.
Many Central Asian families, meanwhile, have strong prescribed gender roles. Women are subservient and often fall victim to violence and abuse from husbands and in-laws.
Islam's Role
Rebuilding nationalism in post-Soviet Central Asia also meant a revival of Islam.
Islamic scholars such as Sheikh Muhammad Sodiq Muhammad Yusuf, based in the Uzbek capital Tashkent, say Islam grants equal rights to women and men.
"One of the longest surah [chapter] of the Koran is called 'Women,'" Yusuf says. "In this and some other surah, Allah stated that women are equal to men as human beings. In some aspects, they are even greater than men; and women are holders of all human rights. As Hadith [the second major source of Islamic rules after the Koran] say, our Prophet, may peace be upon Him, also stated women's greatness and demonstrated in practice how to respect women."
Nonetheless, many women find it difficult to find support among their male relatives or religious scholars themselves.
Gender stereotypes are rooted not only in religious traditions, of course, but also in lifestyles. Sedentary Uzbek and Tajik women had to cover themselves in "paranja" as they stepped out of the women's portion of the house, whereas nomadic Kazakh and Kyrgyz women were free of veils, as they had to ride horses and work in activities, like herding, alongside men.
Financial Burdens
Burdened with stereotypes, Central Asian women have also had to cope with economic hardship, including unemployment and poverty. Many have had to become their family's main breadwinner.
In some cases, this has opened up opportunities to pursue careers in business -- a field that so far has proven more welcoming to women than politics.
Kyrgyzstan, where women have historically been politically active, is illustrative. Not a single woman took up a parliamentary seat or senior government post after the February 2005 parliamentary elections and the subsequent revolution that ousted former President Askar Akaev.
Kerez Japakbaeva, a Kyrgyz human rights activist, notes that under Akaev, three of 16 cabinet ministers were women. But she says the new, all-male parliament has since "voted them all out."
Karamat Ismanova, a member of Kyrgyzstan's Erkindik (Freedom) Party, says women should continue their efforts at representation in the country's political establishment, as their involvement in decision-making is crucial to guaranteeing sustainability and peace in Kyrgyzstan.
"We need to support our women, our daughters and mothers, to become candidates to the parliament and other branches of power, too," Ismanova says. "Only then will we be able to ensure Kyrgyzstan's territorial integrity and peace."
Are Quotas The Answer?
Many Kyrgyz women argue that a gender quota should be implemented in order to help them advance in politics.
That has been the case in neighboring Afghanistan, where the country's fledgling legislature held its first session on 19 December.
Islam dominates many spheres of Afghan society, and gender stereotypes have arguably thrived there more robustly than among the post-Soviet countries -- particularly during hard- line Taliban rule.
But Afghan President Hamid Karzai's government has vowed equal gender rights and encouraged women to run for office. And with the introduction of a 25-percent gender quota in September elections for parliament and provincial councils, women candidates ran in unprecedented numbers.
Sixty-eight of 249 seats in the People's Council, the lower house of the national legislature, were set aside for female candidates. Their candidacies -- and record voter participation among women -- came despite challenges in the form of social mores, a lack of resources, and intimidation by local militia commanders.
Uzbekistan also introduced a 30-percent gender quota ahead of its December 2004 parliamentary elections. But some independent observers regard that move as a "formality" designed to placate the international community without granting women a corresponding level of participation in policy- or decision-making.
"A quota was introduced because the Uzbek government signed an international convention on eliminating all forms of discrimination against women," says Marfua Tokhtahojaeva, a women's rights campaigner from Uzbekistan. "This document requires the political participation of women. But in the case [of Uzbekistan], I am afraid it is just a formality. [The government] wants to say to the international community, 'Yes, we respect women and their rights. Look how many women we have in the parliament.' But most voters do not trust women or the parliament itself."
Women's rights activists -- who comprise more than 55 percent of human rights campaigners in Central Asia -- say advancing women's rights in any sphere requires a broad change in mindset. They say greater equality can be achieved by ensuring that there is no discrimination in legislation and that women are protected from abuse.
They also say the job should not be left solely to the government and the international community. Central Asian women themselves must demand an end to discrimination, they argue, and men in the region must recognize the need for equal rights.
(RFE/RL's Uzbek and Kyrgyz services contributed to this report.)
Influential Women

Mas'uda Jalal is a physician and member of the Afghan government who finished sixth in her unprecedented bid for the Afghan presidency. ...(more)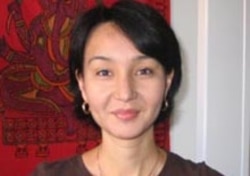 Galima Bukharbaeva risked her life covering the bloody crackdown on protesters in Andijon, Uzbekistan. ...(more)
Saltanat Rakhymbekova heads the Business and Industry Department in Kazakhstan's Central Karaganda province. ...(more)
Gozel Kulzhanova started her own landscaping and plant decorating business and a related magazine in Kazakhstan....(more)

Four-Part Series:
Women & Power In Central Asia (Part 1): The Struggle For Equal Rights
Women & Power In Central Asia (Part 2): Women Increase Presence In Kazakhstan's Business Sector
Women & Power In Central Asia (Part 3): Afghan Women Rise To Top After Taliban Repression
Women & Power in Central Asia (Part 4): Roundtable On The Tajik, Afghan, and Iranian Experiences