The three EU members and the United States have launched a diplomatic drive to have Iran referred to the UN Security Council over its recent decision to resume sensitive nuclear activities.
The International Atomic Energy Agency (IAEA) will debate whether to refer Iran to the Security Council when it meets in Vienna on 2 February.
Iranian Foreign Ministry spokesman Hamid Reza Asefi told a press conference in Tehran today that "Europeans should not act in haste" and that an agreement could be achieved only through negotiations.
He said referring Iran to the Security Council "will not solve any problems".
Iran's delegation to the talks on 30 January will be led by senior nuclear negotiator Javad Vaeidi.
(AP, AFP)
Security Guarantees For Iran?
Security Guarantees For Iran?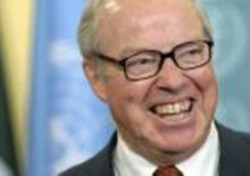 Hans Blix (CTK)

SECURITY GUARANTEES On January 26, RFE/RL Radio Farda correspondent Fatemeh Aman spoke with former UN chief weapons inspector HANS BLIX about the confrontation between Iran and the international community over Tehran's nuclear ambitions. Blix urged the United States to participate in direct negotiations with Tehran and to offer Iran security guarantees that are similar to those being discussed with North Korea...(more)
LISTEN
Listen to the complete interview (about five minutes):

Real Audio
Windows Media

THE COMPLETE STORY: RFE/RL's complete coverage of controversy surrounding Iran's nuclear program.