Lavrov is scheduled to take part in talks on Iran's nuclear program later today in London involving U.S. Secretary of State Condoleezza Rice and foreign ministers from Britain, France, Germany, and China.
Speaking ahead of his trip, Lavrov said the talks will consider ways to persuade Iran to resume the enrichment moratorium.
Germany, France, Britain, and the United States have called for Iran to be referred to the UN Security Council, a move that could lead to sanctions. China and Russia remain unconvinced.
The EU has said a Russian proposal to enrich uranium for Iran on Russian territory could be a way out of the impasse.
Russian Foreign Ministry spokesman Mikhail Kamynin said today that Moscow is considering the possibility of China also taking part in the plan.
(AP, ITAR-TASS, Interfax)
Security Guarantees For Iran?
Security Guarantees For Iran?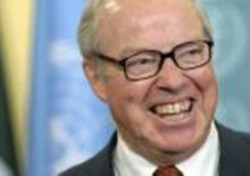 Hans Blix (CTK)

SECURITY GUARANTEES On January 26, RFE/RL Radio Farda correspondent Fatemeh Aman spoke with former UN chief weapons inspector HANS BLIX about the confrontation between Iran and the international community over Tehran's nuclear ambitions. Blix urged the United States to participate in direct negotiations with Tehran and to offer Iran security guarantees that are similar to those being discussed with North Korea...(more)
LISTEN
Listen to the complete interview (about five minutes):

Real Audio
Windows Media

THE COMPLETE STORY: RFE/RL's complete coverage of controversy surrounding Iran's nuclear program.