But he said he wants the Bosnian authorities to work more for the country's prosperity.
Schwarz-Schilling replaces the British diplomat Paddy Ashdown on 31 January.
Christian Schwarz-Schilling, a German diplomat, has a one-year mandate as the international community's high representative and the EU special representative in Bosnia, with the possibility of an extension.
Schwarz-Schilling says he will try to achieve several goals in that year. One is to help Bosnia's government complete the country's first step towards EU membership, by signing a Stabilization and Association Agreement with Brussels.
Other goals include helping Bosnia progress towards entering NATO's Partnership for Peace Program, holding transparent parliamentary elections, and capturing wanted Bosnian Serb war crimes suspects.
(dpa)
Meet The Newsmakers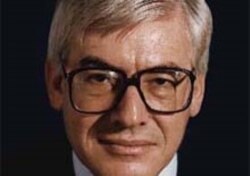 As part of its coverage of the 10th annversary of the Dayton Accord, RFE/RL spoke with Christian Schwarz-Schilling, who served as an international mediator in Bosnia-Herzegovina for nearly a decade and is now Germany's candidate to succeed Britain's Paddy Ashdown as the international community's and EU's high representative in Bosnia-Herzegovina.
(To listen the RFE/RL's interview with Mr. Schwarz-Schilling, click
here
for Real Audio or
here
for Windows Media.)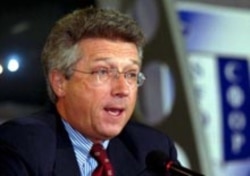 RFE/RL also spoke with Wolfgang Petritsch, the international community's high representative in Bosnia-Herzegovina in 1999-2002.
(To hear RFE/RL's interview with Mr. Petritsch, click
here
for Real Audio or
here
for Windows Media.)