The foreign ministers of the five countries -- the United States, Britain, France, Russia, and China -- along with diplomats from Germany and the European Union made the recommendation in a joint statement issued early today after talks in London.
The statement urged that the governing board of the UN's nuclear watchdog agency transfer the Iranian nuclear file to the Security Council at a meeting opening on 2 February.
The statement said, however, that the Security Council should wait until March to debate the Iranian case, following the release of a new report on Iran's nuclear activities by the UN's International Atomic Energy Agency.
At the Security Council, Iran could face sanctions or other punitive action.
Iran says its nuclear program is for peaceful energy generation and rejects western allegations it is secretly trying to develop atomic weapons.
(compiled from agency reports)
Security Guarantees For Iran?
Security Guarantees For Iran?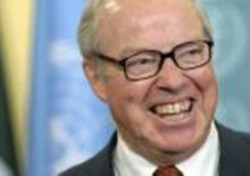 Hans Blix (CTK)

SECURITY GUARANTEES On January 26, RFE/RL Radio Farda correspondent Fatemeh Aman spoke with former UN chief weapons inspector HANS BLIX about the confrontation between Iran and the international community over Tehran's nuclear ambitions. Blix urged the United States to participate in direct negotiations with Tehran and to offer Iran security guarantees that are similar to those being discussed with North Korea...(more)
LISTEN
Listen to the complete interview (about five minutes):

Real Audio
Windows Media

THE COMPLETE STORY: RFE/RL's complete coverage of controversy surrounding Iran's nuclear program.