Iraqi Official Expects Sharp Scaling Down In Foreign Forces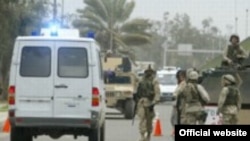 Aftermath of a blast at an Iraqi Army recruiting center (file photo) (official site) 31 January 2006 -- Iraq's national security adviser, Muwaffaq al-Rubay'i, says he expects the number of foreign soldiers in Iraq to fall below 100,000 by the end of this year.
There are currently some 160,000 foreign troops in Iraq, about 136,000 from the United States and the rest from Britain, Italy, Poland, and other countries.
Rubaie, who chairs a joint Iraq-U.S. group planning the transfer of security responsibilities to Iraqi troops, told the "New York Times" he expects the overwhelming majority of foreign forces to leave Iraq within two years.
He said plans have been completed that set out the conditions for the withdrawal of foreign forces and the takeover of security duties by Iraqi forces.
(Reuters, nytimes.com)

SUBSCRIBE For weekly news and analysis on Iraq by e-mail,
subscribe to "RFE/RL Iraq Report."