Schwarz-Schilling said on 30 January that he will focus on getting the ethnically divided country on a path toward European Union membership.
Schwarz-Schilling has a one-year mandate as the international community's High Representative and the EU special representative in Bosnia, with the possibility of an extension.
He replaces British diplomat Paddy Ashdown.
Schwarz-Schilling said that he would use his far-reaching powers -- which include the right to sack officials and impose laws -- only as a last resort.
(AP)
Meet The Newsmakers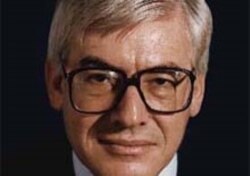 As part of its coverage of the 10th annversary of the Dayton Accord, RFE/RL spoke with Christian Schwarz-Schilling, who served as an international mediator in Bosnia-Herzegovina for nearly a decade and is now Germany's candidate to succeed Britain's Paddy Ashdown as the international community's and EU's high representative in Bosnia-Herzegovina.
(To listen the RFE/RL's interview with Mr. Schwarz-Schilling, click
here
for Real Audio or
here
for Windows Media.)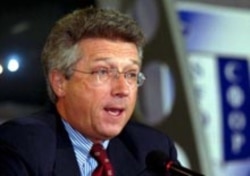 RFE/RL also spoke with Wolfgang Petritsch, the international community's high representative in Bosnia-Herzegovina in 1999-2002.
(To hear RFE/RL's interview with Mr. Petritsch, click
here
for Real Audio or
here
for Windows Media.)