Mustafa Mohammad Najjar made his remarks in Iran's southern province of Bushehr, where Iran's first nuclear reactor is being completed. He said protecting the atomic reactor in Bushehr is of "great importance" to Iran.
Najjar's remarks come as Iranian President Mahmud Ahmadinejad and his cabinet members started a three-day visit to the southern province.
Ahmadinejad reiterated on 1 February that Iran has a right to have nuclear power and that the West will not sway Iran from its nuclear ambitions.
(IRNA)
Security Guarantees For Iran?
Security Guarantees For Iran?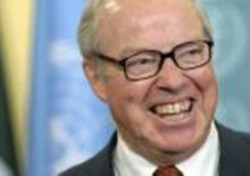 Hans Blix (CTK)

SECURITY GUARANTEES On January 26, RFE/RL Radio Farda correspondent Fatemeh Aman spoke with former UN chief weapons inspector HANS BLIX about the confrontation between Iran and the international community over Tehran's nuclear ambitions. Blix urged the United States to participate in direct negotiations with Tehran and to offer Iran security guarantees that are similar to those being discussed with North Korea...(more)
LISTEN
Listen to the complete interview (about five minutes):

Real Audio
Windows Media

THE COMPLETE STORY: RFE/RL's complete coverage of controversy surrounding Iran's nuclear program.