Iranian Defense Minister Warns Israel Of 'Eternal Coma'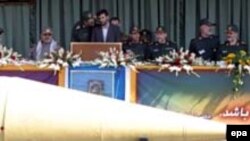 Iranian President Mahmud Ahmadinejad watches a military parade in September 2005 (epa) 25 January 2006 -- Iranian Defense Minister Mustafa Mohammad Najjar today warned Israel that, if it attacks Iran, it will fall into an "eternal coma like [Ariel] Sharon," Israel's prime minister, who remains in a critical but stable condition in hospital.
He said that the vigilance by the Iranian nation would eventually neutralize all "evil plots" by both Israel and the United States.
The comment came after Israel's Defense Minister Shaul Mofaz said on 21 January that his country was prepared for military action to stop Iran's controversial nuclear program.
An Iranian Foreign Ministry spokesman, Hamid-Reza Assefi, responded on 22 January to Mofaz's warning, calling it "childish behavior."
(dpa, AFP)


THE COMPLETE PICTURE: RFE/RL's complete coverage of controversy surrounding Iran's nuclear program.
CHRONOLOGY
An
annotated timeline
of Iran's nuclear program.