Both sides are seeking international support for their positions ahead of an emergency meeting of the International Atomic Energy Agency's governing board on 2 February.
The five permanent members of the UN Security Council will seek to "report" Iran to the Security Council over perceived noncompliance with nonproliferation obligations, while officials in Tehran have vowed that a "referral" would spell an end to cooperation in several forms.
Ali Larijani, Iran's top nuclear negotiator and the secretary of Iran's Supreme National Security Council, said today that governments "should know that if they take the issue to the UN Security Council in any form -- whether it is a "report" or a "referral" -- the Islamic Republic is obliged, according to a bill from parliament, to stop its voluntary enforcement of the additional protocol [to the Nuclear Non- proliferation Treaty]," RFE/RL reported. He added that "the result will be, in fact, a decrease in the level of Iran's cooperation with the [International Atomic Energy] Agency. This is something we are not inclined to do."
"The parliamentary bill says that in case the issue is referred to the UN Security Council, the [Iranian] government is bound to abandon all suspensions of activity," Larijani said. "Naturally, the issue of uranium enrichment on an industrial scale is included. Therefore, it will be done."
U.S. Ambassador to the International Atomic Energy Agency Gregory Schulte told journalists at IAEA headquarters in Vienna today that "we want a diplomatic settlement and to achieve a diplomatic settlement, the leadership in Tehran needs to make the political decision to step off this dangerous path that they are on."
"[Iran's leaders] need to make this political decision to step off this path that poses dangers to the international [nuclear] nonproliferation regime, that poses dangers to the region and, quite frankly, that does not serve the interests of the Iranian people," Schulte said.
U.S. President George W. Bush reiterated his administration's firm intention to ensure that Iran does not develop nuclear weapons.
Iranian officials insist their nuclear program is peaceful and aimed solely at providing nuclear energy.
In the British Parliament's House of Commons today, Prime Minister Tony Blair issued a warning to Iranian officials over their nuclear intentions and alleged support for international terrorism.
"Given what Iran is doing, not just in respect of the breach of its obligations in respect of nuclear weapons, but also in exporting terrorism around the region, in what it's doing in human rights, it is important surely at this moment above all else that we say they have to come back into compliance with their international obligations, and we, all of us, support the action necessary to do so," Blair said.
U.S. IAEA Governor Gregory Schulte
U.S. IAEA Governor Gregory Schulte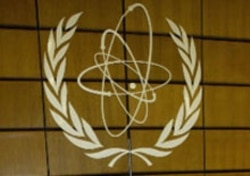 THE INTERNATIONAL COMMUNITY SPEAKS: Listen to excerpts from a November 22 Radio Farda interview with Gregory Schulte, the U.S. representative on the Board of Governors of the International Atomic Energy Agency (IAEA).


LISTEN
Listen to the complete interview:
Real Audio
Windows Media
THE COMPLETE STORY:
For RFE/RL's complete coverage of controversy surrounding Iran's nuclear program,
click here.
CHRONOLOGY: An annotated timeline of Iran's nuclear program.