North Ossetia To Shut Gambling Halls After Blasts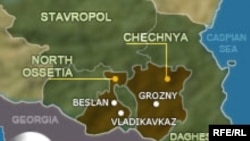 (RFE/RL) Authorities in the Russian republic of North Ossetia have decided to shut down gaming establishments after three explosions in gambling halls in the regional capital, Vladikavkaz, killed two people and wounded more than 20 on 2 February.
The region's deputy prosecutor, Aleksandr Panov, said the prosecutors were treating the blasts as terrorism.
The blasts during a major crackdown on illegal gaming establishments. In all, the North Ossetian police have closed nearly 140 of them over the past two days.
Police said that the bombs were filled with screws to inflict maximum casualties.
At least three of the injured are in a critical condition.
(AP/ITAR-TASS)