In a report released today, Amnesty says police in Georgia are still using electric shocks, cigarette burns and other torture methods.
Amnesty says detainees reported having plastic bags put over their heads, being suspended from a pole between two tables, and having the barrel of a gun placed in their mouth with threats to shoot, among other torture methods.
Amnesty said many such cases never come to light because police cover them up and detainees are afraid to complain.
However, Amnesty has noted some progress, including increased monitoring of interior ministry detention facilities and changes in the law to strengthen safeguards against torture and ill-treatment.
(AFP)
Human Rights In Georgia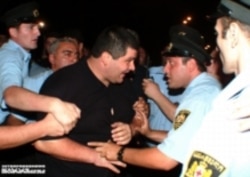 Georgia's police have been accused of using excessive force (official site)


READ
'CULTURE OF IMPUNITY':
Georgian President Mikheil Saakashvili's government has had
a checkered human rights record
since it came to power after the 2003 Rose Revolution. The international community has welcomed the steps taken by the new Georgian leaders to refine the legal mechanisms needed to combat rights abuses. But it also blames the government for failing to ensure those mechanisms are properly implemented
....(more)
RELATED ARTICLES
Rights Group Sees Rise In Police Brutality In Georgia
Citizens See No Improvement In Society, Economy After Revolutions
Helsinki Report Finds Human Rights Problems Plague Entire Region