Angry Relatives Of Ferry Victims Force Way Into Port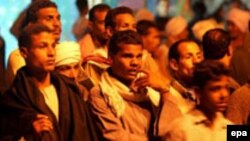 Relatives of passengers on the Egyptian ferry "al-Salam Boccaccio" gather at the port of Safaga, 3 February 2006. (epa) 4 February 2006 -- Hundreds of relatives of passengers from an Egyptian ship which sank in the Red Sea broke through police cordons at the port of Safaga on 4 February amid discontent over a lack of information about the fate of the missing.
Several hundred passengers of the estimated 1,400 people on board are feared dead.
Relatives had been waiting in an area on the edge of the southeastern port of Safaga.
Reports say at least 300 of them pushed their way through several cordons of riot police to rush towards the docks in search of their loved ones.
No injuries were reported.
Meanwhile, search and rescue operations continue but hopes that some of the passengers may have survived the low nighttime temperatures are fast receding.
Egyptian TV and the country's official news agency MENA both reported that 389 survivors have so far been found. Police say 185 bodies have been recovered.
(AFP, AP, Reuters, dpa)