Merkel made her remarks at an international defense forum in Munich at which U.S. Defense Secretary Donald Rumsfeld also had strong words for Iran.
Merkel said Iran has "overstepped the mark" with its nuclear program and said Tehran must not develop nuclear weapons.
"We want, we must prevent Iran from developing its nuclear program further. Iran's nuclear program understandably suggests that it is not about the peaceful usage but also about military options," Merkel said. "Iran has blatantly crossed the red line and I have to add that the absolutely unnecessary provocations of Iran's president make it necessary for us to react."
Rumsfeld, who addressed the conference after Merkel, said the world "did not want a nuclear Iran."
Rumsfeld said Iran was a danger to the world's peace and accused the Iranian regime of being the world's leading state sponsor of terrorism."
The remarks were made before the United Nations' atomic watchdog, the International Atomic Energy Agency (IAEA), voted to report Iran to the United Nations' Security Council.
(AP, AFP, Reuters)
Security Guarantees For Iran?
Security Guarantees For Iran?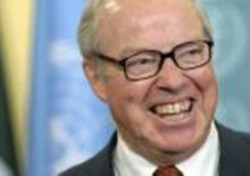 Hans Blix (CTK)

SECURITY GUARANTEES On January 26, RFE/RL Radio Farda correspondent Fatemeh Aman spoke with former UN chief weapons inspector HANS BLIX about the confrontation between Iran and the international community over Tehran's nuclear ambitions. Blix urged the United States to participate in direct negotiations with Tehran and to offer Iran security guarantees that are similar to those being discussed with North Korea...(more)
LISTEN
Listen to the complete interview (about five minutes):

Real Audio
Windows Media

THE COMPLETE STORY: RFE/RL's complete coverage of controversy surrounding Iran's nuclear program.