Four Ukrainian Scientists Killed In Abkhazia Cave Collapse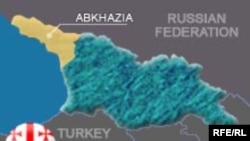 (RFE/RL) 4 February 2006 -- Four Ukrainian scientists were killed today when a roof collapsed in a cave they were exploring in the breakaway Georgian region of Abkhazia.
Local officials say the scientists, or speleologists, were among 13 Ukrainians who were studying the cave, which is in the Black Sea coastal district of Gudauta.
No further details were immediately available.
Abkhazia declared independence when the Soviet Union collapsed in 1991 and has refused to bow to demands by Tbilisi that it reintegrate with Georgia.
(AFP)