RFE/RL:
On the pages of a website called Kavkaz-Tsentr [Caucasus Center] there was a discussion between yourself and [Movladi] Udugov [eds. dismissed as information minister and named head of a "national information service"], in which you were trying to transpose the Chechen system of views and values onto the European system, while Udugov was saying that he believed in Shari'a law and that, on this basis, he was an anti-democrat. Many see the recent orders, which have restructured the government and resulted in the firing of the majority of ministers abroad, as President Sadulayev's way of ending this discussion in favor of Movladi Udugov. Do you think this is a valid interpretation?
Akhmed Zakayev: No, I completely disagree. The discussion about what you are speaking about right now has no relevance in connection with the recent orders. This option [the restructuring] has been in preparation for a long time already. There were initially several reasons for the creation of a political humanitarian bloc that I supervised outside the Chechen Republic. One reason was that outside the Chechen Republic there were over 100,000 Chechens. Moreover, the humanitarian-oriented ministries and institutions struggled to function effectively, given the current situation in Chechnya. Thus, the decision was made to create this political humanitarian bloc.
Eventually, we realized that our calculations were incorrect, because the institutions on which we counted on to work openly and publicly, as well as safely, failed to do so. We must emphasize that as it stands today, the situation is such that, to our great disappointment, the West and the European Union have virtually sanctioned a long war in Chechnya. As it turns out...it appears that neither the West nor the EU are interested in a peaceful Chechnya. That is to say, the current situation in Russia and in Chechnya is convenient for many people for many reasons. Given this, it is unsurprising that our ministers were unable to operate their respective ministries and institutions fully and effectively. Now that it is the general belief that the Chechen conflict can only be resolved militarily, the president [Sadulayev]has taken steps to strengthen his own authority, as well as and the capabilities of his executive agencies within the Chechen Republic. This is all the more relevant now that the conflict has transgressed national borders. There is a new political reality, which the current Chechen government must be conscious of.
RFE/RL: The statements made by President Sadulayev since [Chechen separatist leader Aslan] Maskhadov died and he became his successor have essentially conveyed that, from now on, all forces will be concentrated on internal struggle and that, presently, the Chechen resistance is far less interested in Europe than they were during Maskhadov's reign. Are the recent structural changes associated with this change in policy?
Zakayev: Absolutely. This is all based on the new reality, which has formed not because of our or our president's view of Europe, but rather Europe and the West's position on the Chechen issue. Given this, I believe it is completely justified and logical to commit our political and military forces directly to the conflict zone, where the question of long-term and lasting peace will be solved between Russia and Chechnya.
RFE/RL: In an accompanying note on Kavkaz-Tsentr, there is an indirect "invitation" to those abroad to return home and participate in the works of the Ichkerian [Chechen separatist] government. Do you think that this is somehow directed at you?
Zakayev: In [Sadulayev's]recent order, it is directly said that two ministries -- Foreign and Culture -- will remain abroad. Naturally, if the ministries are staying abroad, so are the ministers. If this issue is not yet clear, I am sure there will be updates and clarifications concerning the order we have today, especially about the role of the culture minister. In the future, if I receive necessary orders, I will make appropriate changes. In general, though, I believe it is right that Chechen ministers are returning home.
The Chechnya Conflict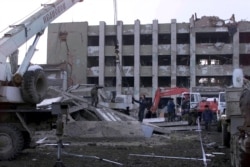 The aftermath of a December 2002 Chechen resistance attack on the main government building in Grozny (epa)


CHRONOLOGY
The
fighting in Chechnya
has raged, with short breaks, since 1994. It has brought misery, death, and destruction to the North Caucasus republic and to Russia as a whole. View an
annotated timeline
of the conflict.

ARCHIVE
RFE/RL's complete coverage of Russia's war-torn Republic of Chechnya.