Russia: Chechen Rebel Leader Reshuffles Ministers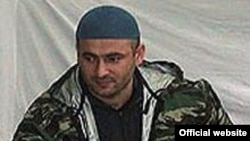 Sadulayev shakes up Chechnya's separatist government (file photo) (official site) Chechen separatist leader Abdul-Khalim Sadulayev has announced a reshuffle targeting several top rebel representatives living abroad. Under the reshuffle, prominent London-based separatist envoy Akhmed Zakayev has been dismissed as deputy prime minister. Sadulayev has also reportedly signed a decree ordering all his ministers to be based in Chechnya.
MOSCOW, 6 February 2006 (RFE/RL) -- The reshuffle was announced today by Chechen separatist websites, which are describing it as a move to fortify the self-proclaimed separatist government.
The pro-rebel website chechenpress.co.uk wrote that Sadulayev ordered the reshuffle "so that our enemies' propaganda does not speak of a 'government in exile.'"
According to decrees reportedly signed by Sadulayev, Zakayev has been dismissed as deputy prime minister while retaining his post as culture minister.
Movladi Udugov, who also lives abroad, has been dismissed as information minister and named head of a "national information service."
Umar Khanbiyev, another prominent longtime separatist envoy exiled in France, has been sacked as health minister.
Home Requirement
In addition, Sadulayev has ordered that all government ministers must now reside on Chechen territory, with the exception of Zakayev and Foreign Minister Ilyas Akhmadov, who has been granted political asylum in the United States.
Zakayev told RFE/RL's North Caucasus Service that the shake-up was
aimed at consolidating the separatist leadership
at home.
Sadulayev reportedly ordered the reshuffle "so that our enemies' propaganda does not speak of a 'government in exile.'"
"In August [2005], a section for external and humanitarian matters was created in the new government structure," Zakayev said. "I was put in charge of that section, which included five or six ministries singled out in that [August 2005] decree. When that section was set up, there was hope that those ministers who lived abroad would be able to do their work more or less efficiently and that they would have the opportunities to do their work. However, the past two or three months showed that this plan was unrealistic. Furthermore, the internal situation in the republic, political and military, has changed. So, the [current] decree is aimed at strengthening the role of ministries, ministers, and government officials working at home [in Chechnya]. Consequently, the top government leaders will work at home. This was the purpose of the decree."
Zakayev added that he expects more changes in the separatist government.
According to the chechenpress website, another reason for the shake-up could have been the bitter comments exchanged lately by Zakayev and Udugov on rebel websites.
Udugov has called for Chechen separatists to reject international legislation and Western democratic standards, a view that the more moderate Zakayev has strongly opposed.
Figure Of The Past?
Some political analysts believe that Zakayev's moderate views contributed to his dismissal as deputy prime minister and see the reshuffle as a sign that the Chechen leadership is becoming more radical.
Zakayev was a close aide to Aslan Maskhadov, the former Chechen president killed by Russian forces last year. Maskhadov had reiterated his readiness to negotiate with Moscow.
Maskhadov was immediately replaced by Sadulayev, a little-known Islamic cleric currently in hiding.
For Aleksei Malashenko, a Caucasus expert at the Carnegie Center in Moscow, Zakayev's dismissal as deputy prime minister comes as no surprise.
Some political analysts believe that Zakayev's moderate views contributed to his dismissal as deputy prime minister.
He said the failure of the peace talks with Moscow have made Zakayev "a figure of the past."
"New figures are emerging there, maybe more radical, people are emerging who do not want to restrain their activity to Chechnya but wish to operate throughout the whole North Caucasus," Malashenko said. "And in this respect, Zakayev is a figure of the past for absolutely everyone, because he was a person connected to Maskhadov, to negotiations, to times when negotiations were possible. Now, negotiations are totally impossible."
Zakayev, who took part in the fighting at the start of the war a decade ago, has been branded by Moscow an international terrorist.
Moscow has unsuccessfully sought his extradition from Britain, where he has been granted political asylum.


RFE/RL's complete coverage of Russia's war-torn Republic of Chechnya.
CHRONOLOGY
An
annotated timeline
of the Chechnya conflict.