Chechen Separatist Envoy Confirms Government Reshuffle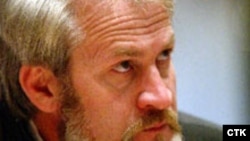 Akhmed Zakayev (file photo) (CTK) 6 February 2006 (RFE/RL) -- Chechen separatist envoy Akhmed Zakayev has confirmed that the rebel leadership has stripped him of the post of deputy prime minister in the self-declared government.
In a 5 February interview with Ekho Moskvy radio, Zakayev, who lives in London, also said that he is ready to return to Chechnya if he is recalled by the separatist leadership.
Zakayev's dismissal was part of a reshuffle in the separatist government earlier this month in which four other ministers were also dismissed.
In a decree carried on a Chechen rebel website, rebel leader Abdul-Khalim Sadulayev said all separatist ministers should be based in Chechnya, where rebel forces have been fighting Russian troops since 1994. Sadulayev said he himself would appoint separatist envoys abroad.
The reshuffle was reportedly sparked by a public argument between Zakayev and Information Minister Movladi Udugov about the separatists' commitment to international law and democracy.
Udugov was among the four ministers dismissed in the reshuffle.
(RFE/RL's North Caucasus Service, kavkazcenter.com, lenta.ru)