Ungureanu said such conflicts are "a source of insecurity and asymmetric risks."
Frozen conflicts in the region include the dispute between Romania's eastern neighbor, Moldova, and its breakaway Transdniester region. Other conflicts are the uneasy truce between Armenia and Azerbaijan over the Nagorno-Karabakh region, and Georgia's unresolved disputes with the breakaway regions of Abkhazia and South Ossetia.
In remarks made in Berlin before talks with German Foreign Minister Frank-Walter Steinmeier, Ungureanu said Romania would call a summit this summer aimed at addressing security issues in the Black Sea region.
Bucharest expects to join the EU in 2007.
(dpa)
Nagorno-Karabakh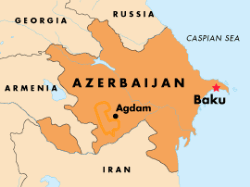 Click on the map to see an enlarged map of the Nagorno-Karabakh conflict area.
In February 1988, the local assembly in Stepanakert, the local capital of the Azerbaijani region of
NAGORNO-KARABAKH
, passed a resolution calling for unification of the predominantly ethnic-Armenian region with Armenia. There were reports of violence against local Azeris, followed by attacks against Armenians in the Azerbaijani city of Sumgait. In 1991-92, Azerbaijani forces occupied most of Nagorno-Karabakh, but the Armenians counterattacked and by 1993-94 had seized almost all of the region, as well as vast areas around it. About 600,000 Azeris were displaced and as many as 25,000 people were killed before a Russian-brokered cease-fire was imposed in May 1994.
For a complete archive of RFE/RL's coverage of the Nagorno-Karabakh conflict,click here.
Of particular interest:
2005 In Review: Conflicts In Caucasus Still Characterized By Gridlock
Nagorno-Karabakh President Expresses Optimism