Any officer at the ministry said the cause of the blast in Kurchaloi, some 30 kilometers southeast of the Chechen capital Grozny was not yet known.
But the Interfax news agency quoted a Chechen Interior Ministry official as saying that it appeared to be a gas explosion.
Various Russian news agencies put the death toll between one and six people.
The blast caused a building to collapse, burying several dozen servicemen under the rubble, according to provisional reports. A fire broke out but has been extinguished.
(AP, Itar-Tass, Interfax)

The Chechnya Conflict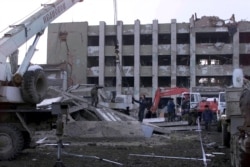 The aftermath of a December 2002 Chechen resistance attack on the main government building in Grozny (epa)


CHRONOLOGY
The
fighting in Chechnya
has raged, with short breaks, since 1994. It has brought misery, death, and destruction to the North Caucasus republic and to Russia as a whole. View an
annotated timeline
of the conflict.

ARCHIVE
RFE/RL's complete coverage of Russia's war-torn Republic of Chechnya.