Iraq: Judge Describes Corruption Case Against Lawmaker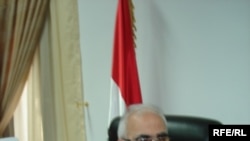 Radi Al-Radi, speaking with RFI on 7 February (RFE/RL) Radi al-Radi, head of the Commission on Public Integrity, on 7 February spoke with RFE/RL's Radio Free Iraq (RFI) about the corruption charges against parliamentarian Mish'an al-Juburi. Al-Juburi has been charged with graft under suspicion that he siphoned off salaries for ghost employees of a pipeline-protection force he oversaw in the Salah Al-Din Governorate. His son, Yazin, has also been charged, as his company is accused of misusing funds earmarked for feeding the protection force.
RFI: What can you tell us about the background of this case?
Al-Radi: As the number of explosions targeting oil pipelines was growing, the Council of Ministers discussed [in 2005] the issue with the Defense Ministry and the National Assembly in order to make a specific decision to solve this problem. There were a number of suggestions, one of them being to delegate the protection to local tribes in the areas crossed by the pipelines. As a member of the National Assembly, Mr. Mish'an [al-Juburi], together with [his relatives in the] Al-Jubur tribes, was to be put in charge of guarding the pipeline north of Baghdad. He was charged with this task. He had to form, supervise, and command armed units.
Indeed, he presented lists [with names of members] of these units, and money was allocated for their subsistence allowances. But the problem was that no matter how much was spent and how much was paid to these units, explosions on that pipeline continued. That prompted the government to investigate the matter.
The issue was passed to us, and as we worked on it we came to see that it included numerous elements of corruption and embezzlement. It seems there were many fictitious names and that the funding was fabricated. In some areas, no one was protecting the pipeline.
Continuous explosions could be seen as a guarantee of the continued existence of the armed units and a continuous supply of financing -- but this also meant a continuous problem of embezzlement. Therefore, we presented the issue to the courts. Having found there is evidence, the court opened a case against Mish'an [al-Juburi], and issued a warrant for him.
RFI: The court might come up against a problem with the legal immunity that protects Mish'an al-Juburi as a member of the National Assembly.
Al-Radi: Of course, as a lawyer, I believe that the former National Assembly has been effectively dissolved and the next parliament has not held any sessions yet. For this reason, Mish'an al-Juburi had no immunity during this period. Measures have already been taken. When the court issued the warrant, a file was opened on Mish'an al-Juburi and his son Yazin, who is involved in the case. They have not been found, and there is information that they are in Syria.
On these grounds, the matter has been passed to Interpol so they can be arrested. But the problem of immunity is an issue between the court and the National Assembly. The court will reach some results only through the National Assembly, via telephone connections and correspondence.
RFI: Mish'an al-Juburi has said the case is based on purely political goals, aiming at his removal from politics. What is your comment?
Al-Radi: First of all, we are professionals, unrelated to politics. Mish'an al-Juburi should not have any problem with us because we are not politicians. The problem completely falls under the issues of corruption and embezzlement. We have received a file from authorities so we must act on it. We did act and have presented the issue to the court that has found it is an embezzlement case. A judge in a court would not issue a warrant unless there is evidence.
RFI: What is the amount of money that has allegedly been defrauded under the pretext of pipeline protection?
Al-Radi: The court has asked investigators to provide it with payrolls, including the names of all members of the protection unit in order to block the money. The amount is high, but I cannot tell you exact numbers at the present time because only now it is being blocked.
RFI: Is it worth millions of dollars?
Al-Radi: Of course. It has definitely been in the millions of dollars. Let us consider that a monthly wage of some 150,000 [Iraqi dinars, or $100] was paid for several months, in addition to high amounts for subsistence allowances. Therefore, [the damage] is naturally worth millions [of U.S. dollars].
RFI: How has the case affected pipeline-reconstruction projects?
Al-Radi: This issue has led to a number of projects being stopped. Moreover, the extent of the necessary protection was initially not properly taken into account in the projects. In the end, many people were recruited for the protection force, with enormous amounts of money allocated -- and this has happened at the expense of reconstruction projects.
(translated by Petr Kubalek)