However, Kocharian cautioned that no final agreement is expected.
He was speaking to reporters in the Swedish capital, Stockholm, ahead of a meeting with his Azerbaijani counterpart, President Ilham Aliyev.
The two-day talks in Rambouillet, France, begin on 10 February.
The leaders will discuss the future status of the predominantly ethnic-Armenian Nagorno-Karabakh, which seceded from Soviet Azerbaijan in 1988, triggering a six-year war that ended with a truce. Officially, the two countries are still at war.
In addition to their presence in Nagorno-Karabakh, Armenian troops occupy seven Azerbaijani administrative districts next to the separatist enclave.
(AP)
Nagorno-Karabakh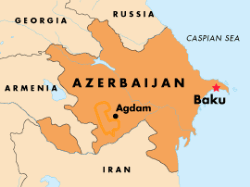 Click on the map to see an enlarged map of the Nagorno-Karabakh conflict area.
In February 1988, the local assembly in Stepanakert, the local capital of the Azerbaijani region of
NAGORNO-KARABAKH
, passed a resolution calling for unification of the predominantly ethnic-Armenian region with Armenia. There were reports of violence against local Azeris, followed by attacks against Armenians in the Azerbaijani city of Sumgait. In 1991-92, Azerbaijani forces occupied most of Nagorno-Karabakh, but the Armenians counterattacked and by 1993-94 had seized almost all of the region, as well as vast areas around it. About 600,000 Azeris were displaced and as many as 25,000 people were killed before a Russian-brokered cease-fire was imposed in May 1994.
For a complete archive of RFE/RL's coverage of the Nagorno-Karabakh conflict,click here.
Of particular interest:
2005 In Review: Conflicts In Caucasus Still Characterized By Gridlock
Nagorno-Karabakh President Expresses Optimism